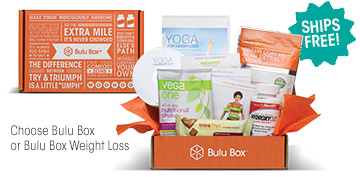 Don't tell me, I know:) I should have already shed those baby pounds. I haven't…sigh… thus I was very excited about the Bulu Box to get a little extra motivation.
Bulu Box is the first health, nutrition and weight loss discovery box designed to help you feel your best. Each month, you'll get a custom box filled with a new mix of 4 to 5 premium samples from top brands to try. Every sample is sufficient enough to decide if the product is right for you. Of course, shipping is always free and you can cancel anytime. Share your thoughts about each product in our sample surveys and you can earn 50+ Rewards Points (that's $5!) each month! Use your points to purchase your new favorites in full size at BuluBox.com! Here you'll also get expert tips, tricks and a supportive community of Bulugans just like you! Join the discovery and find a healthier you!
Get your 1st Bulu Box FREE with code: HARRIS
Purchase a 3 month gift for you or a friend, and get the first month FREE with promo code: JUMPONIT3
Note: this deal gets 3 months of Bulu Box for just $15 (compared to regular price of $30)
Get your first 3 Bulu Boxes FREE!
Purchase a 6 month gift for you or a friend and get the first 3 months FREE with promo code: JUMPONIT6
Note: this deal gets 6 months of Bulu Box for just $30 (compared to regular price of $60
Read more: http://www.bulubox.com/?gclid=CPXZrN3uu7gCFWyCQgodTG0A3w#ixzz2ZVOq3NO8
Follow us: @BuluBox on Twitter | BuluBox on Facebook
I think the Bulu Box is brilliant. I look at different supplements and want to buy them but am nervous they won't be right for me. So Yay for Bulu Box!
Here is the box I received this month. The box itself is cute and the sayings are very motivational.
The items that the box contained were
Gu Energy Strawberry Chomps $1.75 _ These were really good! They tasted like gummy bears. I had to hurry out for a quick workout before the babe woke up so I popped a couple in my mouth and they gave me lots of energy.
PowerIce Popsicle $1.29- My teenage son liked this, well kind of. He said it tasted like the vitamin C drinks I make him drink when he starts getting sick. I love the idea of having a power drink in Popsicle form.
Twin Labs Power Fuel $0.96 This tasted good. Just put it in a glass of water and drink. As far as sustained energy I'm not sure I noticed much difference.
Thera-Gesic Muscle Rub – Sample $1 I rubbed this into my sore neck muscles. It burned! But it helped with the tightness.
EatGreen Tea $0.66 I actually haven't tried this and I probably won't…
Shapeology Burn Blend Pills $9.33 These definitely gave me more energy. I didn't feel jittery at all.
I think Bulu Box is a great way to try new supplements the only suggestion would be a box that you could actually pick the samples you received.
I received one or more of the products mentioned above for free using Tomoson.com. Regardless, I only recommend products or services I use personally and believe will be good for my readers.