Aloha friends! It's a new year and I'm guessing many of you have the resolution to eat healthier. I've been experimenting  the past couple of months with quinoa, the latest popular health food ingredient. I like the healthy nutty flavor and chewy yet firm texture.
Why is quinoa healthy?
"One cup of cooked quinoa has 220 calories, 5 grams of fiber and a whopping 8 grams of protein (almost 50 percent more than an equal portion of brown rice.) You'll also find hefty doses of thiamin, vitamin B6, folate, zinc, potassium, magnesium and selenium, along with 15 percent of your daily iron needs. Quinoa is especially unique because it contains all the essential amino acids (protein building blocks) that your body needs. Soy is the only other plant-based food that achieves this. It's also gluten-free, so folks with gluten allergies can also enjoy this fluffy, grain-like seed." (Food Network)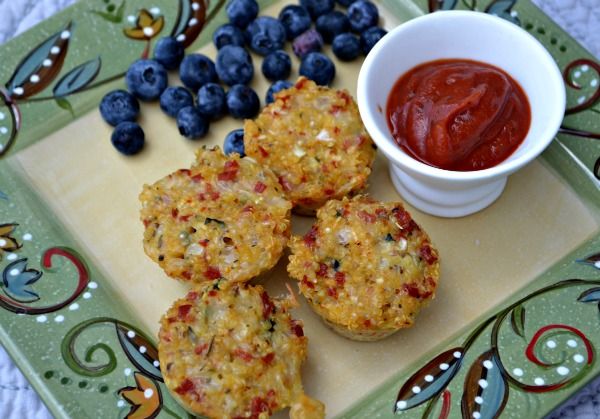 There are lots of quinoa recipes on the internet but not all of them are kid-friendly. This one, with the addition of pepperoni, makes a delicious kid-friendly after school treat.
Quinoa PIzza Bites
2 cups cooked quinoa
2 eggs
1 cup chopped onion
1 cup shredded mozzarella cheese
2 teaspoons minced garlic
0.5 cups fresh basil, chopped
1 cup chopped turkey pepperoni slices
0.5 teaspoon seasoning salt
1 teaspoon paprika
1 teaspoon dried crushed oregano
pizza sauce for dipping
Preheat oven to 350 degrees.  Mix all ingredients (except pizza sauce) together in a medium bowl. Spray mini muffin tin with non-stick spray, fill each up with mixture, pressing down gently to compact.  Bake for 15-20 minutes. Allow to cool and serve with pizza sauce for dipping.
Freezing Directions:
Prepare as directed above.  Allow bites to cool completely.  Remove from muffin tin, place on cookie sheet and flash freeze. When frozen, place in freezer bag. Label and freeze. To serve: Thaw, heat in microwave for 30 seconds-1 minute. Serve with pizza sauce for dipping.
Thank you Once a Month Mom for the recipe inspiration, freezing tips, and the fab photo.