Healthy Snacks to Go

 Cookbook Kindle launch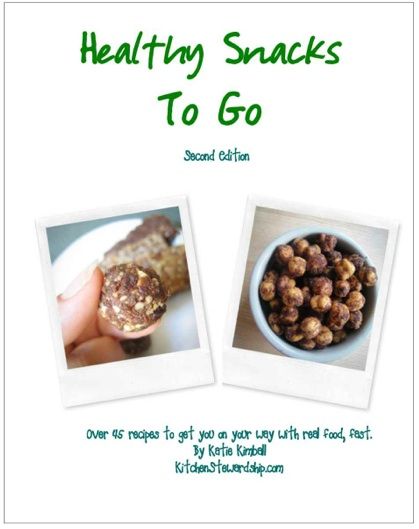 Katie Kimball's cookbook, Healthy Snacks To Go is going digital for only .99 cents!
Here's a quick summary of her book:
You're ready to dash out the door, but the 4:00 snack monsters are grumbling…when you're trying to eat healthy, REAL food, how do you deal with cupboards full of ingredients when you need to grab and go? Healthy Snacks to Go to the rescue!

From homemade granola bars to 15 flavors of a fruit/nut power bar and even homemade beef jerky, you will not go hungry with this helpful resource in your corner. Every recipe (over 45 of them, most with multiple variations) has extensive notes, rookie FAQs, time-saving tips and allergy-friendly icons.

You'll learn to make from scratch to save your budget and nourish your family, even when your calendar says you're spending 9.2 hours driving people around in a day.
This sounds like a Mom's dream come true! Quick, easy, healthy snacks to keep her kids hungry tummies satisfied. I have one of Katie's cookbooks and they're not like the typical cookbook because in addition to recipes she has at least a page per every recipe wtih timesaver tips, health FAQs, and more.

King Arthur Flour brings FREE Demos to Cities Nationwide
 Attention readers in North Carolina, New York, and Illinois!
America's oldest flour company will share tips and tricks this fall for easy home baking, from whole grain yeast breads to festive pies, at FREE baking demonstrations in North Carolina, New York, and Illinois.

With more than 220 years of experience behind them, the expert bakers at King Arthur Flour have plenty of advice to offer in their free demos, Perfect Pies & Savory Scones, and Baking with Yeast & Whole Grains. Each two-hour demo includes free recipes, coupons, and time to "talk baking" with the King Arthur Flour staff – plus a chance to win some great baking-related door prizes.

"We know from customers that many otherwise confident people suffer from 'baking anxiety,'" says National Outreach Program Manager Julie Christopher, "especially when it comes to pie crusts and baking with yeast. With a little baking knowledge, you can overcome your fear and experience the joy of baking and eating your own breads, pies, and more."

King Arthur Flour has helped thousands of bakers across the country to do just that through its traveling baking demos and other educational programs.

Demos will be held October 17 – November 17, 2012, as follows:

October 17-20 – North Carolina: Asheville, Charlotte, Greensboro & Cary

November 1-3 – New York: Syracuse, Le Roy & Williamsville

November 15-17 – Illinois: Rockford, Naperville, Hoffman Estates
I love King Arthur Flour products and wish I lived closer so I could attend. Hey KAF, want to come to Hawai'i?
Free $2.00 credit to Amazon Instant Video

For a limited time you can visit Amazon Local and register for a $2.00 Instant Video credit. The voucher is valid for a $2 discount off the price of a movie or TV rental or purchase; customer will be responsible for payment to Amazon.com for final price of movie after discount, plus applicable taxes.
Voucher will expire if not used towards a movie or TV rental or purchase from Amazon Instant Video by October 31, 2012.