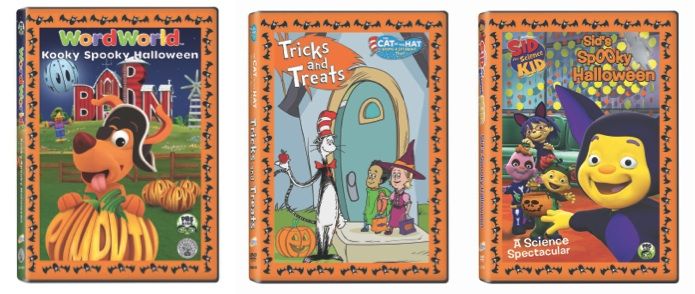 NCircle Entertainment has done it again!
My daughter is one happy camper with her brand new Halloween themed preschool movies. We recently the following movies for review:
Sid the Science Kid – Sid's Spooky Halloween (brand new this year!): Join Sid and his friends as they discover how bats catch mosquitos, why spiders are expert engineer web builders, and how skeletons make up the foundation of our bodies. The kids dress up to celebrate Halloween at school, and Teacher Suzie leads them in a special Halloween parade song to show off their costumes! With Sid the Science Kid, Halloween can be spooky and scientific!
WordWorld – A Kooky, Spooky Halloween: The WordFriends get their share of scares the night before Halloween, when Pig sleep walks and everyone thinks he's a ghost! Then, Sheep is making herself a super special fairy costume to wear for the big Halloween party. But what will she do when her WordFriends need pieces of her costume for their own use?
The Cat in the Hat Knows a Lot About That – Tricks and Treats: A new spooky adventure this DVD brings, with the Cat, Nick and Sally, Fish and the Things. Meet the eeriest critters you have ever seen, arrived just in time for this Halloween! There'll be lots of tricks and, of course lots of treats, to share the animal friends you will meet! There's a coconut crab, spider monkeys and bats, and plenty more fun with The Cat in the Hat!
My daughter loved all three of these animated movies. As a parent I was glad she could be introduced to the fun of Halloween without being scared. All three of these movies took her on spooky adventures that made learning fun and Halloween SPOOK-tacular.
BUY: You can purchase these DVDs at NCircle Entertainment.
Win it! One lucky Moana Saves reader will win all three of these DVDs just in time for Halloween. Enter in the Rafflecopter widget below.

*I was not compensated for this post. Any and all opinions here are mine. Aloha!