Have you noticed that nerds are cool now?
You know what I mean, all these movies about comic book characters, TV shows about nerds – The Big Bang Theory, iPhone vs Android, and so on.
It's cool now to know all about the comic book characters/superheroes and understand the back-story in the movies. The Big Bang Theory has shown that it's cool to be smart and that smart people can be funny too. Even people that probably used to make fun of nerds in high school are; fighting, debating, arguing, insulting each other about whether the iPhone or Android is better than the other.
Nerd Haiku is a very funny book, perfect for kids, teens and great for the techie nerd adult we all love:  Nerd Haiku by Robb Pearlman. The illustrated book takes a light-hearted pointed poke at the absurdities, stereotypes, and truths of nerd culture humor done in perfect haiku format –  5 7 5.  Nerd Haiku is a geektastic collection of more than 200 witty short poems that capture the very essence of nerd.

They speak to the core elements of the nerd un

iverse: science fiction, fantasy, comic books, super heroes, big-budget movies, role-playing games, TV series, animation, cosplay, as well as celebrated authors, artists, actors, and franchises. Everyone from the nerds to the average Joe and kids who are going back to school will appreciate and cherish these gems of poetic wisdom.
Nerd Haiku is (obviously) filled with haikus about nerdy things.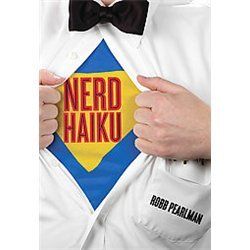 I have to admit, reading this book made me feel really un-nerdy. (I am a self-proclaimed wanna-be nerd.) As I was reading the haikus, I didn't understand 80% of the content. I have heard of most of the subjects of the haikus but I didn't get it. 
There was also some haikus about nerds not having girlfriends and would be inappropriate for children under 18.
A majority of the nerd references would most likely only make sense to those that actually lived through the 70′s and 80′s. Such as, Star Wars, Star Trek, and Dungeons and Dragons. I apologize if i have offended you in any way. There was some reference to Harry Potter and I totally got that haiku. There are more current nerd references but they appear more towards the end of the book. There are some haikus in there that I had no idea what they were talking about! I'd have to Google it to figure it out!
Nerd Haiku would be fun to read with other people to see who understands the references in the haiku and to reminisce about the nerd days.  I think I would read this book again with people that are like-minded in my "wanna-be nerdiness".
You can get your own copy of Nerd Haiku from Amazon.com.

*I was not compensated for this post although I did receive a complimentary copy of the book to review. Any and all opinions are my own*