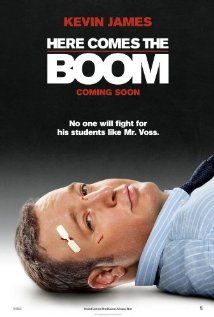 In the comedy Here Comes the Boom, former collegiate wrestler Scott Voss (Kevin James) is a 42-year-old apathetic biology teacher in a failing high school. When cutbacks threaten to cancel the music program and lay off its teacher (Henry Winkler), Scott begins to raise money by moonlighting as a mixed martial arts fighter. Everyone thinks Scott is crazy – most of all the school nurse, Bella (Salma Hayek) – but in his quest, Scott gains something he never expected as he becomes a sensation that rallies the entire school.
We thoroughly enjoyed this movie from beginning to end!  It's been some time since I've watched a good, clean comedy that wasn't slathered in cheese… not that cheesiness is all bad, but it was really refreshing to have a good hearty laugh at something that was genuinely funny.  There were some great one-liners as well as some obvious physical comedy.  The hubby LOVED it because not only was it funny, but it involved a lot of MMA (mixed martial arts) and UFC fighting… which is probably the only thing that kind of made me cringe a little, not for me, but because my kids were with us.  They said they really liked the movie and that it was so funny, but I would look over at my daughters during some of the fighting parts and they were covering their eyes.  My son, however, couldn't get enough… go figure.  The storyline was good and all the characters added so much to the movie.  I love Salma Hayek and don't recall seeing her in any movie where she wasn't super seductive, but who am I kidding, she even made the scrubs she was wearing look sexy!
Go to the official website to watch the trailer and to find out more about Here Comes the Boom before it releases October 12, 2012.
It is a very fun, entertaining movie and we (all 6 of us) give Here Comes the Boom 12 thumbs way up!  On the way to the car, our kids kept reciting or re-enacting their favorite parts so we were laughing even after the movie was long over.

*I was not compensated for this review although we were given free admission to the movie for reviewing purposes. Any and all opinions are my own.*