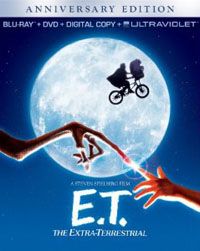 Cast: Dee Wallace, Henry Thomas, Drew Barrymore

Director: Steven Spielberg

Rating: PG

Runtime: 115 minutes

Release Company: Universal Home Entertainment

Website: www.UniversalHiDef.com
E.T. The Extra Terrestrial celebrated its 30th Anniversary Edition by releasing it on Blu-ray earlier this month.
It's been over 20 years since I watched Steven Spielberg's "E.T. The Extra Terrestrial." And this time around, I got to watch it in Blu-ray high definition, with my own children.  It was an awesome experience to watch this film as an adult and really understand the metaphors and implications I didn't catch as a kid, coupled with the intensity and amazement I could see on the faces of my children.  I was surprised at how enamored my kids were with E.T., Elliot, and Gertie.  As the plot evolved, it was fun to hear them make the connections between certain events that were happening.
I have a daughter who is about the same age as Gertie and she was so emotionally involved, just like Gertie.  She cried pretty hard when she thought E.T. had died, then laugh-cried uncontrollably when she discovered he was still alive.  My other daughter is close to Elliot's age and could NOT believe he grabbed the girl and kissed her in his classroom right after he freed all the frogs.  My son, who is in between age-wise loved the bike-flying, of course, among many other things.
We just loved this part, when Gertie gives E.T. a kiss goodbye!  We wanted him to stay with Gertie and Elliot, but were also so happy he could go home to his own family.  E.T. The Extra-Terrestrial is such a wonderful family movie!
In celebration of the film's 30th anniversary and release on Blu-ray for the first time ever, Madame Tussauds debuted E.T. The Extra-Terrestrial on October 22nd at several attractions around the world, including London, Amsterdam, Berlin, Sydney and Hollywood.  Tokyo will also add E.T. to its collection in March, 2013.
BUY: E.T. the movie is available for purchase in stores.

I was not compensated for this review, although I did receive a copy of the DVD to facilitate my review.  Any and all opinions are my own.