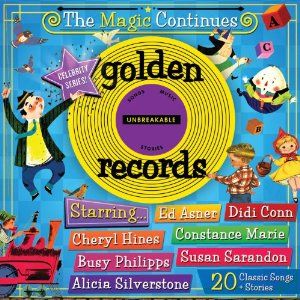 My toddlers were just recently introduced to the story of Goldilocks & the 3 Bears during a bedtime story.  They loved it and after a whole week of reading the same book, this new Golden Records – The Magic Continues Celebrity Series, Vol 1- CD  was more than welcomed into our home!  It was a nice refresher for the kids to hear different voices tell the stories.  This collection includes the variety of voices from Ed Asner, Didi Conn, Cheryl Hines,  Alicia Silverstone, and many more.
 Golden Records believed that pre-schoolers must be given the tools to enable them to explore the wisdom of all ages.  Through richly orchestrated music and the use of A-list talent, Golden Records created a timeless, one of the kind sound, releasing beautiful songs and stories that entertained and educated children for decades.  
The collection is perfect for kids. My toddlers were attentive for the stories and then got their wiggles out during the songs.  The variety of stories capture both my son and daughters attention.  Even after jumping and dancing during a song, the next story reeled them back in.  This story and pillow time has now become a great transition before nap time in our home!
I had one unexpected result  happen with my 3 year old.  She is at the perfect age where she uses her imagination in her every day play.  It's fun to hear her re-enact the stories she heard or even put the songs into motion.  One of the most interesting things she has picked up from the stories is the tone of voice. She started to give her dolls a voice whether it be a high pitch or lower pitch.  She caught on to this by listening to the stories.
Check out the Golden Records: The Magic Continues teaser on youtube, click on the link below:
http://www.youtube.com/GoldenRecords
You can also follow Golden Records on Facebook or on Twitter.
BUY: Pick up your copy of this Golden Records: The Magic Continues Celebrity Series, Vol. 1  online at Walmart, Amazon or on iTunes.

**I was not compensated for this post. Any and all opinions here are mine. **