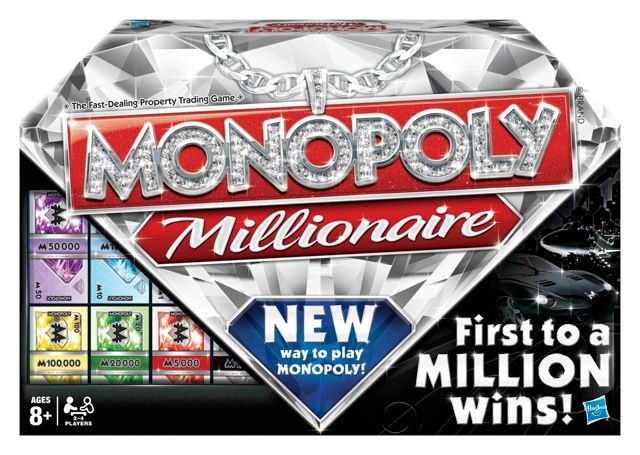 Do you love board games?
I do! My family and I have board game night once a week.
Hasbro's Monopoly is a game that my kids have always enjoyed but they've made this classic game even more fun with their recently released version called Monopoly Millionaire.
Here are some of the fun and new characteristics of Monopoly Millionaire:
Everything is in MILLIONS! Your rent, property purchase price, etc. We're thinking BIG money with this game.
You can upgrade your player pieces! The game is for a maximum of 4 players. The playing pieces include a boat, plane, car, and motorbike. The fun of it is that you begin as either a rowboat, paper airplane, go-cart, or scooter and from there you can upgrade twice until you're cruising on your yacht or jet.
The object of the game is to be the player to get to one million dollars compared to traditional Monopoly where you're trying to bankrupt the other players. This new strategy actually makes the game a little less lengthy (which I like!).
All the property spaces start with a fortune card so if you land on the space you have to do what it says. This makes buying properties more interesting.
This game has the addition of Millionaire Lifestyle cards. When you land on the Millionaire Lifestyle space you pick a card and do what it says. An example is making money on your offshore savings. Ha ha! Love the irony.
I enjoyed reading all the new property millionaire-styled names like: Fortune Valley, Paradise Island, Diamond Hills, Ski Mountain.
My daughters got such a kick out of play-acting Monopoly Millionaire that they took a 5 minute break during the game to grab their dress-ups and fake jewelry so they could look the part of a millionaire.
BUY: You can buy Monopoly Millionaire online at Hasbro's site or click on the "Where to Buy" link just below the purchase button on the same site.
WIN: One lucky Moana Saves reader will win their own Monopoly Millionaire game! Enter to win below and good luck.

*I was not compensated for this post. Any and all opinions here are mine. Aloha!