I don't like monsters but I DO love cute cartoon monsters!
First of all, I'd just like to thank the theater for providing kid sized 3D glasses for the kids. I don't know if they had enough for all the children in the audience but my kids were able to wear them and it helped a lot. It certainly fit my children's faces a lot better than wearing the adult sized glasses with the bumpers. Granted my kids still took the glasses off from time to time but I think that was just because they aren't used to wearing something on their face to watch a movie.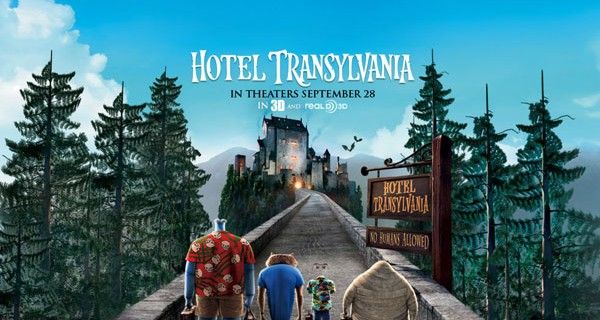 Synopsis: Welcome to the Hotel Transylvania, Dracula's (Adam Sandler) lavish five-stake resort, where monsters and their families can live it up, free to be the monster
s they are without humans to bother them. On one special weekend, Dracula has invited some of the world's most famous monsters – Frankenstein and his bride, the Mummy, the Invisible Man, a family of werewolves, and more – to celebrate his daughter Mavis's 118th birthday. For Drac, catering to all of these legendary monsters is no problem – but his world could come crashing down when one ordinary guy stumbles on the hotel and takes a shine to Mavis.
To the movie!
Carol:
Hotel Transylvania is such a fun family movie. It had a little something for everyone. It wasn't too scary but it wasn't overly childish either. The 3D effects weren't IN-YOUR-FACE but it had enough of the effects to satisfy my needs. Sometimes I forgot I was even watching a movie in 3D until I noticed something popping out ever so slightly.
The story is a cute and one that I think all family members will like. The monsters are fun and a lot of jokes to tickle everyone's funny bone!
My family loved it and I highly recommend this movie for you and your family!
 Anna:
As a family, we get pretty excited about holiday genre movies and I'm happy to say that we're adding Hotel Transylvania to our Halloween favorites. The movie focuses on the 118th birthday party Dracula throws for his daughter, Mavis. All of the familiar monsters, their extended family and one human attend the party at Dracula's five stake resort, Hotel Transylvania. As we would expect, hijinks ensue.
How did we like it? We loved it! What a fun movie! We especially recommend that folks go see it in 3D. The special effects were amazing! The 3D technology allowed us to feel like we were right there in the middle of the action. When the bats fly in 3D, you feel like you're flying along with them. Hotel Transylvania is a feast for the eyes–a great family movie with fully fleshed-out (hahaha! Pun intended!) characters and a great "coming of age" story arc. In particular, hubby appreciated the father/daughter plot line especially since our oldest just turned sixteen and he's going through some separation anxiety of his own as she gets older. Yes, some bonding between them occurred because of the movie but everyone in the family will enjoy it.
Hotel Transylvania is rated PG. We don't recommend it for very young children who might get scared by a few spooky (though funny spooky!) scenes. Otherwise it's an excellent movie to watch with your kids any time or in anticipation of the upcoming Halloween season.
Hotel Transylvania is released in theaters today!
Check out their website to learn more about the movie and watch trailers: http://www.welcometohotelt.com/


*We were not compensated for this review although we were given free admission to the movie to review. Any and all opinions are our own.*