Just in case you don't remember the movie Finding Nemo, here's a quick summary!
First released in 2003, Disney•Pixar's Finding Nemo takes audiences into a whole new world in this undersea adventure about family, courage and challenges. When Marlin, an overly cautious clownfish living in the Great Barrier Reef, helplessly watches his son get scooped up by a diver, he must put aside his fears of the ocean and leave the safety of his coral enclave to find Nemo. Buoyed by the companionship of Dory, a forgetful but relentlessly optimistic fish, Marlin finds himself the unlikely hero in a seemingly impossible land-and-sea rescue.
Both Carol and I were able to take our families to see the new 3D movie.
Carol said:
I was excited to watch Finding Nemo in 3D with my family. I was worried that I would be let down with the effects since one movie that was advertised as 3D was pretty bare. However Finding Nemo 3D was awesome. It was pretty 3D the whole time and I felt like I could reach out and pop the bubbles and the fish were really swimming at me or floating right in front of my face! I really enjoyed the movie and the special effects were pretty awesome!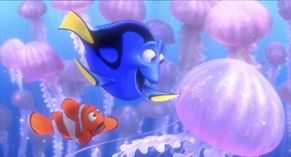 One qualm I did have was about the 3D glasses. My 2.5 yo kept taking the glasses off since they were way too big for her even with the bumpers on. Same issue for my 4.5 yo. It made me feel like my kids eyes were gonna go bad watching the movie without the glasses on. The theater had run out of kids 3D glasses which didn't make a lot of sense to me since Finding Nemo 3D would be viewed by mostly small children. My suggestion to you so that the whole family can enjoy the movie is to make sure the theater has plenty of kids glasses on hand.
Overall, we had a good time watching it and the effects were a plenty and pretty cool to see.
My Reaction: Both of my kids are familiar with Finding Nemo. It's in the regular rotation of DVDs we watch in the car or at home, so it was exciting to have them watch the movie in 3D form. I was just as impressed with the effects as Carol was. I kept telling my husband it felt like I was in an aquarium. I caught myself actually pointing out things to my kids and realized I had people behind and in front of me that may not have liked that! But it was because the details of the scenery were popping out more than I remember. It was great to watch the classic characters like Nemo, Marlin and Dory pop out again with such bright colors and effects. I knew the effects were good when my 3 year old jumped back when Bruce the shark went on a rampage after Marlin and Dory.


It seemed like they were so close, I didn't blame her for having that reaction! I wish all shows would come out in 3D. I felt so much more connected, even with a cartoon.
Disney-Pixars offical release is September 14! Check out your local theatre and make sure you sea Finding Nemo 3D, you don't want to miss it!

and

We were not compensated for this post. We did get free admission to view the new 3D movie. Any and all opinions here are our own.