Dr. Seuss' THE LORAX on 3D Blu-ray and DVD on August 7th, 2012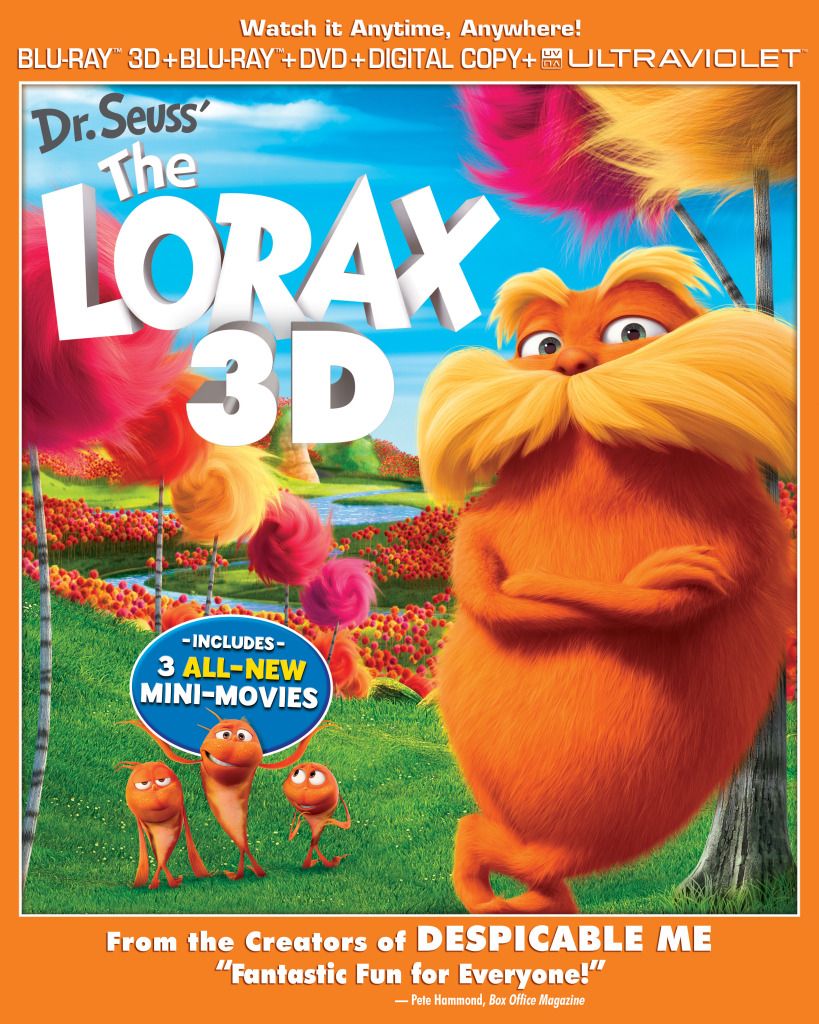 He's "the legendary, slightly annoying guardian of the forest… the Lorax." Have you see the movie, THE LORAX? It's the latest and greatest animated film from the creators of Despicable Me and the imagination of Dr. Seuss. The story begins with twelve-year-old Ted who will do anything to find a real live Truffula Tree in order to impress the girl of his dreams. As he embarks on his journey, Ted discovers the incredible story of the Lorax, a grumpy but charming creature who speaks for the trees.
Ted is from Thneedville, a city of inflatable trees, polution, and where delivery men deliver bottled fresh air to your doorstep. The delivery man's theme song lyrics below explain it all:
Goooooood Mooooooorning!

In Thneedville, It's a brand new dawn!

With brand new cars, and houses and lawns.

Here in got-all-that-we-need-ville!

In Thneedville, we manufacture our trees.

Each one is made in factories.

And uses 96 batteries!

In Thneedville, the air's not so clean.

So we buy it fresh.

IT COMES OUT THIS MACHINE! Madam.

It's Satisfactions-guaranteed-ville!

In Thneedville, we don't want to know

Where the smog and trash, and chemicals go.

I JUST WENT SWIMMING, AND NOW I GLOW!

In Thneedville we have fun year-round;

We surf and snowboard right in town.

We thank the Lord for all we've got,

Including this brand new parking lot!

PARKING LOT! Paaaarking lot!
My kids give THE LORAX movie 5 Stars!
Who doesn't love the colorful and captivating world of Dr. Seuss?!? This movie is filled with humorous dialogue, great music, and big-name voices like Danny DeVito, Ed Helms, Zac Efron, Taylor Swift, Rob Riggle, Jenny Slate, and Betty White.
The Blu-ray 3D Combo Pack and Blu-Ray Combo Pack DVDs are loaded with bonus feature exclusives like digital copies to be loaded to your iPad®, iPhone®, iPod™, or Android as well as UltraViolet™, the revolutionary new way for consumers to collect movies and TV shows in the cloud to instantly stream and download to computers, tablets and smart phones. The bonus features also includes Mini Movies, "Seuss It Up!" drawing tutorials, games, sing alongs, and more.
Bring home the #1 Animated Film of the year!
I found this post on ForTheMommas detailing a quick list of some of the best prices on THE LORAX. I can't guarantee her prices (especially here in Hawaii were prices are most often inflated) but it's a starting point to compare prices.
I highly recommend buying this movie for your family. It's a great PG-rated flick with a good message, helping our kids be more environmentally friendly…or else they might get a chastising visit from the Lorax!

*I was not compensated for this review, although I did receive a copy of the movie. Any and all opinions are my own. Aloha!