I have a family that loves to play games. Especially video games.
We have a bunch of different video game systems that we've acquired over the years. Our Nintendo DS is falling apart but it still works (as long as you hold the screen a certain way). My son also loves the Ice Age movies so getting to review the game was a win-win.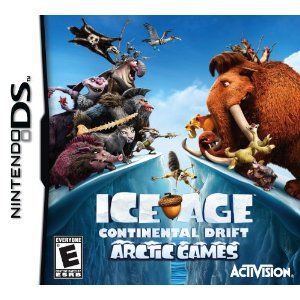 Developed by Behavior Interactive, Ice Age: Continental Drift – Arctic Games is the video game extension of the upcoming fourth installment of the Ice Age franchise, Ice Age: Continental Drift, where gamers of all ages can use teamwork or go head-to-head as Manny, Sid, Diego and their furry friends in motion controlled competition that's fun for the whole family. Ice Age: Continental Drift – Arctic Games is planned to arrive on shelves this summer on the Wii™ system from Nintendo, Nintendo 3DS™ and DS™ hand-held systems, and Kinect™ for Xbox 360® from Microsoft.

"Anticipating the summer release of the new Ice Age movie, we're taking mammoth measures to give gamers of all ages an action packed Ice Age experience that parallels the clever and inventive qualities of the franchise," said David Oxford, Executive Vice President, Activision. "It's important to give players the freedom to interact with these beloved characters in a motion-based video game for players of all ages."

When their island is set adrift in the midst of continental upheaval, Manny and the herd encounter a ragtag menagerie of seafaring pirates with a secret treasure. Having trouble deciding on how to split the treasure evenly, they collectively decide to settle the problem through a series of off-the-wall sporting events including ski jumping, ice smashing, and glacial hopping. Ultimately, the winner of the most events will be entitled to the prize. As the prehistoric games begin, players must side with Manny and the herd, or the seafaring pirates to determine the fate of the riches.
Here's the thing, I'm not as good at video games as I like to think I am. I tried playing the game myself but was not always successful and since my husband and son like to play games and are natural gamers, I had them "test" it out for me. Basically they played it  and I asked them what they thought.
G-Man (my hubs): The game can be a challenge since it is made up of ten different mini games. There are different ways to play the game. You could play as one player or with two players. There's "Story Mode" in which you play against the computer/game, "Tournament" where you play against a friend. "Free Play" is when you get to play any of the mini games against the computer or friend.
Everyone can play the game but not everyone can do well in it but it is fun to try.
The games are pretty fun to play and it's addicting to keep trying to beat your current high score. Some mini games are harder than others.
A-boy (my son): I liked the Ice Age game on the DS because it was fun. The jumping game and smashing game are fun to play.
I tried playing the game but I'm not very good at any of the games but it wasn't  too hard. It's definitely a family friendly game where everyone can participate and play the game.
Ice Age Continental Drift video game is also available on the Wii.

This Wii game is a competition between the herd and the pirates. You can either have the computer play the pirates or you can compete against another player. Like the Nintendo DS version, the Wii game includes a series of competitive winter-themed events like Glacier Hopping and Ski Jumping.
My kids didn't get bored playing these games over and over, trying to beat the pirates. It's harder than it appears because those blasted pirates are tough to beat! What makes Ice Age Continental Drift Arctic Games unique was the character comments and personalities. They're just like the movie, including empty-headed Sid, proud Diego, and protective Manny with all the familiar voices of Queen Latifah, Denis Leary, John Leguizamo, Peter Dinklange, and Wanda Sykes.
If your kids are Ice Age fans I think they'll enjoy the new Ice Age Arctic Games available for purchase.
For more information on Ice Age: Continental Drift – Arctic Games please visit www.activision.com, and for more information on the feature film head over to www.IceAgeMovie.com. The game is rated "E" (Everyone) by the ESRB.
*I was not compensated for this post. I did recieve a promotional Nintendo DS video game to review.
Any and all opinions here are mine.*