I am a total GLEEK!
I have loved the show Glee since I saw the pilot episode and haven't missed one yet. I was involved in the theater program when I was in high school and I actually have an Associate's degree in Theater. So needless to say, I love musicals. I like to pretend that I know all the words and that I am great at singing especially when watching Glee!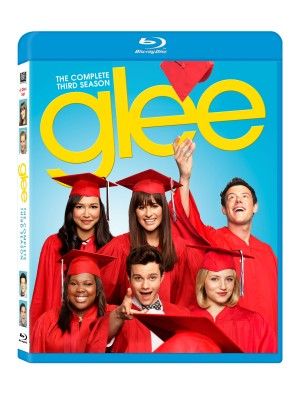 Glee: The Complete Third Season is now on Blu-ray!

Season Three of the electrifying, award-winning series finds the Gleeks headed for the Nationals – and graduation! As younger members join New Directions, others are about to begin exciting, if uncertain, lives outside it. Featuring some of television's most enthralling song and dance numbers, including memorable hits from the legendary Michael Jackson, Glee continues to earn its place in the hearts of viewers around the world.

Street Date: 14/Aug/2012

Run Time: 963 Minutes

MPAA Rating (USA): NR (Not Rated)

Genre: Comedy

Audio: English: 5.1 DTS-HD Master Audio, 5.1 Dolby Digital

Language: Subtitles: English, French, Spanish

Aspect Ratio: Widescreen: 1.78:1

Bonus Features:

Disc 1:

**Glee Under the Stars

**Glee Music Jukebox

Disc 2:

**Santana's "Santa Baby" Music Video

**Glee Music Jukebox

Disc 3:

**Glee Give a Note

**Glee Music Jukebox

Disc 4:

**Welcome to the Class

**Making the Finale

**Sue Addresses Her Fans

**More Sue's Quips

**Glee Music Jukebox
I loved watching all the special features on all four discs.
I especially love the "Glee Jukebox" that plays the songs from the episodes on that disc. You have the option to PLAY ALL or SHUFFLE the songs or even pick a certain song you want to listen to and watch. I was so excited when I discovered that the subtitles on the PS3 worked for the Glee Jukebox so now I can totally sing along and know all the words to the songs!
My favorite disc was the fourth and final disc. It had the most special features of all the other discs. I really enjoyed the "behind the scenes" of one of my favorite episodes, Props. That's the episode when Tina bonks her head and wakes up as Rachel and it's hilarious!
You'll be able to re-watch your favorite episodes! You could even watch all the episodes on that disc in "Season Mode" which means you don't have to keep pressing play after each finished episode.
If you are a Gleek like me or just like watching Glee, you'll love Glee: The Complete Third Season on Blu-Ray! Buy it online at Amazon 

or at other participating retailers.

*I was not compensated for this review. I did receive a complimentary Blu-ray to review. Any and all opinions are mine.*