Aloha friends and Moana Readers. It's Foto Friday!
There's an amazing hike here on Oahu that has been nicknamed "Stairway to Heaven."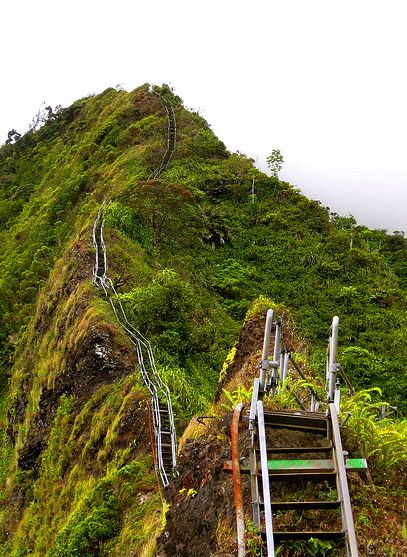 This is Wiki's blurb about the trail:
The trail began as a wooden ladder spiked to the cliff on the south side of the Haʻikū Valley. It was installed in 1942 to enable antenna cables to be strung from one side of the cliffs above Haʻikū Valley to the other.

When the Naval base was decommissioned in the 1950s, the United States Coast Guard used the site for an Omega Navigation System station. In the mid 1950s, the wooden stairs were replaced by sections of metal steps and ramps — by one count, 3,922 steps. The station and trail were closed to the public in 1987. Some hikers ignore the No Trespassing signs and continue to climb, contributing to the local community's misgivings about reopening the structure.

In 2003, the stairs were repaired, costing the city $875,000.[4] As of early 2012, land usage rights issues have not been resolved. The City and County of Honolulu has stated that there is currently no plan to open the stairs for public use, citing liability concerns.
The view is amazing hiking this stairway that climbs the mountain's ridge. Here's to hoping it reopens sometime soon.
Happy Aloha Friday!