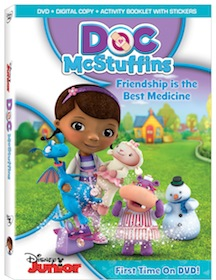 One of our family's favorite newer characters on Disney Junior is the cute-toy-fixing little girl known as, Doc McStuffins. She brings her toys to life and fixes their ailments whether it be their squeeker isn't working or the fire truck who can't seem to squirt water anymore.
Both of my toddlers were singing along throughout the entire DVD. As doc problem solved the toys problems, I could see my kids wonder how Doc would fix each toy. My kids loved watching Doc McStuffins interact with her toys. It was not hard to sit and enjoy the DVD with the kiddos!
This DVD will be released August 21st and includes the DVD along with the chance to upload the episodes to an electronic device with it's Digital copy capability. You can take these episodes on the go for your little ones! For a quick preview click here or here and see why my kids and I love it so much! Not only does it include the extra digital copy, this DVD came with an activity pack that instantly caught my daughter's eye. It includes stickers, a scene for her to create, and other activities we could do together.  It's not just the typical DVD in a case!

Pick up this DVD at your nearest convenience or online and get your child helping Doc McStuffins solve the next problem!

*I was not compensated for this review. Any and all opinions are my own.