How are you liking the addition of recipes to Moana Saves? Yay? Nay? … Bueller?
I love food and I love recipe recommendations so I thought I would share them with all of you. Hopefully you're onboard.
Okay, on to today's recipe. I had a pile of overripe bananas and my family was tired of my usual banana recipes. First I tried banana muffins with apple chunks. Eh, it was okay. I'm not a huge fan of apple chunks in bread. Then I found this idea to add chocolate to banana bread. One of my favorite zucchini bread recipes is a chocolate zucchini bread so I thought why not? Everything is always better with chocolate.
I altered the original recipe to make this a muffin recipe, making these delicious breads more portable and easier to limit how many I eat. (In theory.)
These chocolate banana bread muffins are moist with the addition of the buttermilk and the gooey chocolate chips in the bread add a fun tasty surprise in every bite. Enjoy!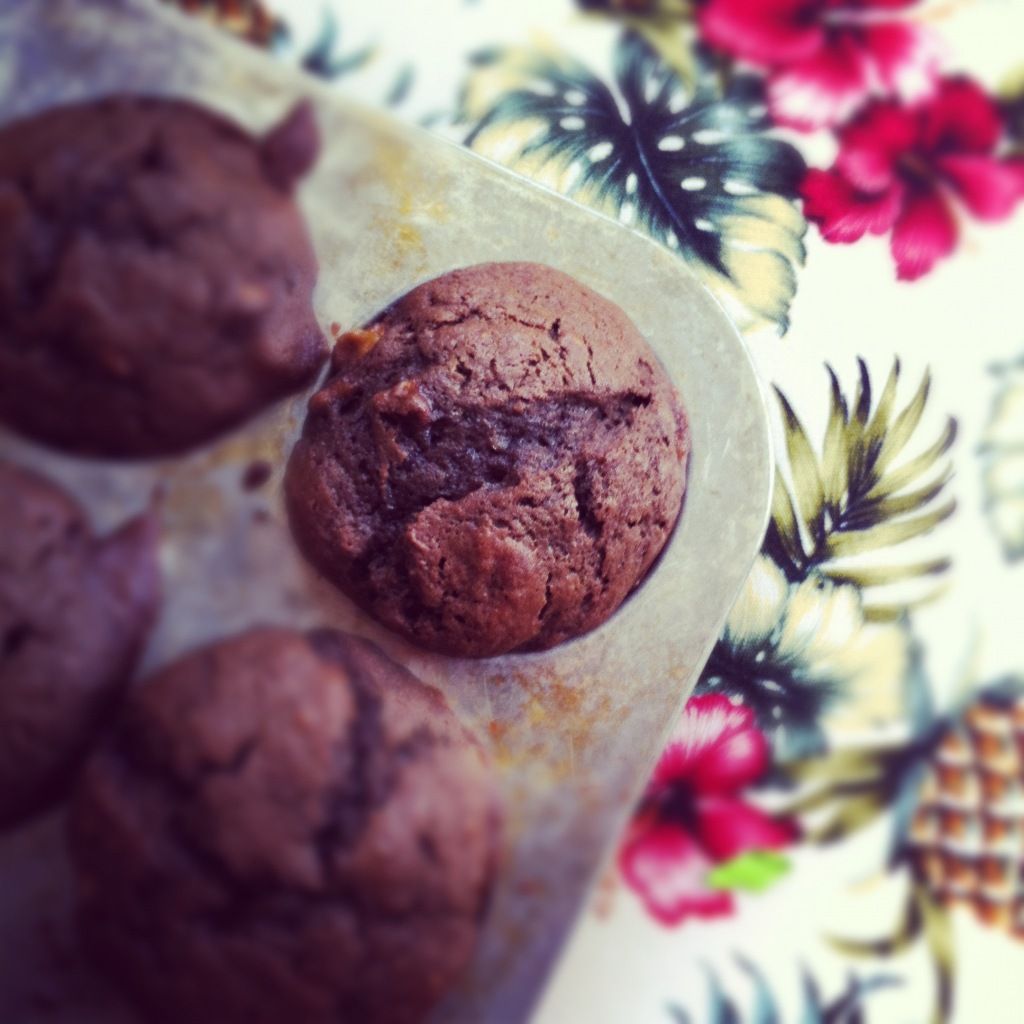 Chocolate Banana Bread Muffins
1/2 cup butter, softened
1 cup Sugar
2 Eggs, room temperature
1 3/4 cup flour
1/4 cup unsweetened Cocoa Powder
1 teaspoon Salt
2 teaspoons Baking Powder
1/2 teaspoon Baking Soda
1/3 cup Buttermilk, room temperature
1 tablespoon Vanilla Extract
3 Large over ripe Bananas, Smooshed
6 oz. chopped Semi-Sweet Chocolate or 6 oz.(1/2 bag) Chocolate Chips
Preheat oven to 350 degrees, then lightly grease or paper-line your muffin tin.
Cream the butter, sugar and vanilla with hand mixer. Add eggs one at a time, mixing well in between each addition. Add mashed bananas and mix until blended.
In a separate bowl, whisk together the flour, cocoa powder, salt, baking powder and baking soda.
Slowly add the dry ingredients to the butter mixture, alternating with the buttermilk. Add the chocolate chips and stir with a spoon until combined but not over-mixing.
Pour the batter into muffin tins and bake for 25 minutes or until a toothpick inserted in the center comes out clean.
Yield: approximately 18 muffins
This recipe was inspired by The Hungry Housewife with alterations made by me.