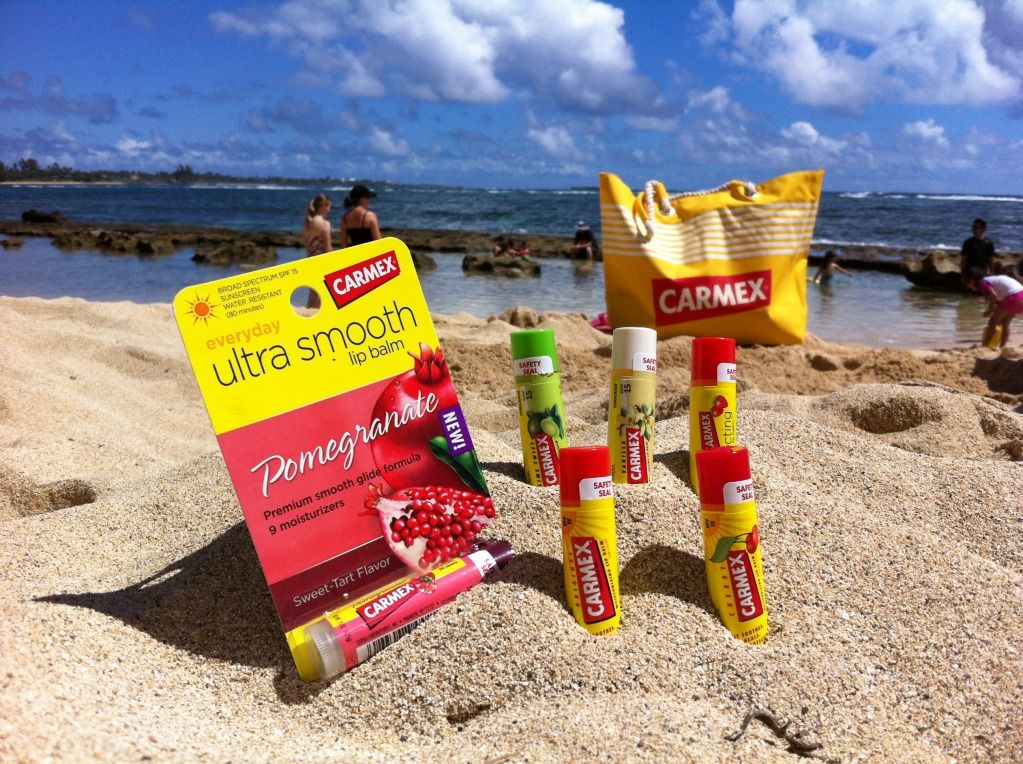 Fun in the sun isn't complete without protection.
Living in Hawaii my family and I go through sunblock like water. I'm always careful to make sure my kids and I sunblock our faces but I've never really thought about using SPF protection on my lips. It's a common misconception that the lips don't need protection from the sun but my dermatologist told me that excessive exposure to the sun's rays has been linked to cancer of the lips. (I'm not medically knowledgeable…this is just my second-hand information.)
I'm a lip balm girl. I can't live without it. When I read the details on my lip balm I realized it didn't have sun protection. How easy would it be if I simply chose lip balm that included SPF 15?!? Carmex has exactly this, plus it's water-resistant for up to 80 minutes.
I recently received a sample of lip balms from Carmex. Are you familiar with Carmex? It's been around forever after being first invented in 1937. What makes Carmex unique in my eyes in the healing tingle I feel every time I smooth the lip balm on.
Carmex® lip balm is packed with ingredients specially selected to help heal your chapped, cracked, burned and otherwise abused lips. Menthol and phenol, for example, both have antiseptic qualities, helping to speed healing by killing germs. And if you suffer from painful fever blisters, you'll be glad to know that Carmex helps relieve the symptoms of cold sores.
Healing, moisturizing, and protection in a lip balm is fantastic but I'm loving the scents/flavors of Carmex.
Lime Twist
Vanilla
Cherry
Strawberry
Pomegranate
Original
My husband grabbed that Lime Twist right up and claimed it as his own. Which flavor are you interested in? The flavors are subtle and not too overpowering so it isn't like you're wearing kiddie lip balm.
You can purchase Carmex lip balms at a variety of retailers so go out and take a step toward protecting and healing your fabulous lips!

*I was not compensated for this review. Any and all opinions are mine. Aloha!