Do you have kids?
I'm a mother of three kids and honestly I'm quite disappointed with the toy selection I find at stores. The toy designs lack imagination, they all require batteries, and most often they break all too soon. WOW Toys are different.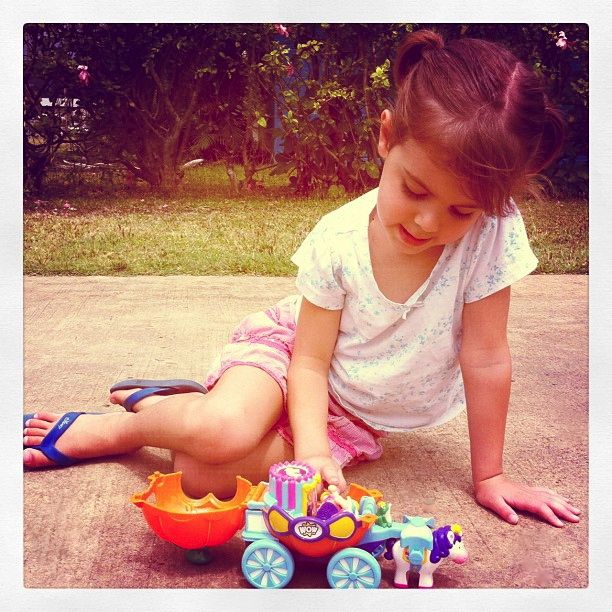 I recently received Pippa's Princess Carriage from WOW Toys for review. My daughter LOVES her little princess carriage complete with Pipp, her fairy godmother, and a horse drawn carriage that makes a clippity-clop sound when rolled.
What to love about WOW toys:
Battery-free!
No PVC; their plastic is safe.
Durable toys that don't break.
All the figures have their thumbs up because they're not choking hazards. There are no small parts in WOW toys so they're safe for children to play with from ages 18 months and up.
WOW buttons and foot keys: There are hidden play features on many WOW toys. My daughter's princess carriage had a foot key where a child can place their WOW figure and turn the key to make another part of the toy turn…like magic!
Since my home is full of girls Jenny also received a toy to review with her son. Take it away Jenny!
Wow Toys have so much to offer. Each toy description online is detailed with everything from their WOW magic feature to the special name and mini biography about the toy.  My son got to meet "Dexter the Digger" 
and he hasn't put it down since we opened the package a couple days ago. Toys usually have a max entertainment factor of about 20 minutes but not with Dexter. It's no surprise either! Each time he plays with it, he discovers something new that the truck can do. It can be revved backwards to get it to move on its own like many smaller race cars and the side knob to maneuver the digger makes the digging arm really dig! My son also likes to play with the driver that came with the digger. The driver stays put in his driver seat but can easily be removed by my son when he wants to carry it around. From a mother's point of view, the build of this toy is very impressive. It's sturdy enough to move across our carpeted bedrooms.
WOW Toys are bought by happy mums (and grandmas!) in the UK and over 50 countries globally. Our intrepid little toys have packed their cases and travelled as far away as Russia, the USA and Taiwan.
Check out their site to see the wide selection of toys available, including construction, emergency, fantasy, farm, adventure, safari, town, and more.
WIN: This giveaway is open to readers world-wide! 
One lucky Moana Saves winner will receive the Harry Copter Animal Rescue toy. It has a magnetic pick up system to help the stranded animals and a hand-squeeze mechanism to activate the motorised main rotor. The set includes Harry the copter, Dave the vet, Amanda the panda, Leo the Lion and Eric the crocodile.
*I was not compensated for this post. Any and all opinions here are mine. Aloha!