I have an infinite love for bags. I like having different kinds of bags for all kinds of occasions.
Our family is headed to the Big Island this month for a family reunion and it would be the perfect opportunity to have one toiletry bag to pack instead of a couple of plastic baggies for different toiletry items.
I had the opportunity to test out ToiletTree's Toiletry bag with Accessories (which is sold on Amazon.com). A quick description of the bag:
This heavy duty bag has a large double zipper compartment for easy access. The bag also contains a separate compartment on the bottom of the bag for storing the included accessories. Each toiletry bag comes with 3 TSA approved travel bottles – individually marked as Shampoo, Conditioner and Body Wash. A toothbrush case and collapsible cup with pill holder makes traveling easy and hassle free.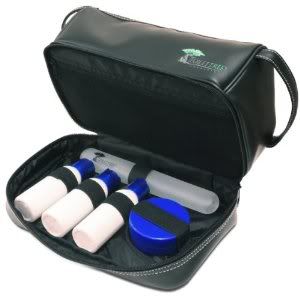 I was so excited to look through the ToiletTree bag and it came as advertised! Everything it said it would come with it did. I was also really pleased to see that when you open the double zipper compartment, there's a huge "STOP" sign that offers their customer service number if you had any questions, concerns or challenges with the product. It's just nice to see a company that cares about you and is willing to help you.
The ToiletTree bag is a nice and smooth and looks very durable for travel. There are already bottles in the bottom compartment of the bag for shampoo, conditioner, body wash, a toothbrush case and collapsible cup with pill holder and as I was looking over the bag, I had a huge brain funk! I could not figure out what I could put in the bigger top compartment. I had to consult with my better other half and as I started discussing what could go in the bag, I came up with lots of "duh!" items. I wear contacts so "duh!", my contact solution and contact case plus my glasses. If I happened to be on my period; "duh!", my pads and/or tampons. If I wore makeup, "duh!", my makeup would go in there! "duh!", My comb or brush!
It's a pretty big compartment so I somehow thought I had to think of a lot of stuff to fill it up with! So you have a bunch of room to work with!
Either way, if you travel a lot, live with roommates, or want to find a gift to give someone who travels, the ToiletTree Toiletry Bag with Accessories would be a great gift (or just get it for yourself)!
If you want to find out more about their products, you can check them out all over the internet!
*I was not paid or compensated for this review. Any and all opinions here are my own. Mahalo!*