I need to lose weight.
I know that's what is always said each and every year and every time we step on a scale or go shopping for clothes but I honestly need to. I'm only 5 feet and 2 and a half inches and all I'm gonna say is, my Body Mass Index (BMI) is in the "Obese" category. Not very helpful to my self esteem. I try to work out but I'm not consistent, I've done the Insanity workouts six times, as in the same first workout SIX times, not all the workouts. I have this bad tendency to start it, but not continue it. I try to go running at least 3 miles but again, I'm inconsistent.
I also have a hard time losing weight because I like to EAT, in moderation of course. BUT if I like what I'm eating, I tend to get seconds. I like food. I also know that in order to lose weight, I need to eat much healthier than I am now. As in more fruits and veggies and less carbs. I LOVE carbs and meat. Boy, do I love my beef and chicken! (This will all make sense in a minute…).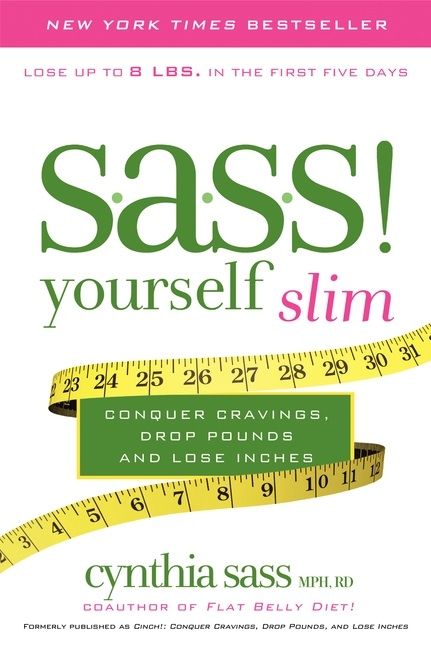 When I started reading the book, Sass Yourself Slim by Cynthia Sass, with the headline to lose up to EIGHT pounds in the first FIVE days, I was intrigued. Sounds amazing and it's actually quite simple and it makes SENSE! The book is a New York Times bestseller for goodness sakes!
New York Times bestseller which is now available in paperback with more tips and new material!

Previously released as Cinch! – SASS Yourself Slim is the same 30-day weight loss plan with new material and success stories, plus before and after photos.

Following the success of Flat Belly Diet, author Cynthia Sass offers SASS Yourself Slim, a 30-day weight loss plan that promises rapid weight loss, satiety, and quick body stabilization, freeing you from cravings and unhealthy eating habits.
However, and I know I shouldn't be admitting this, I couldn't bring myself to do the diet.
I know it's good for you. The book explains why its structured the way it is and scientific explanations and so on but then I got to the rest of recipes and noticed there are very few with chicken or beef. Sass explains why she doesn't include a lot of recipes with chicken or beef in it and it makes sense but if I'm going to change the way I eat, I'm gonna need some cow and bird in there.
What she has is mostly a Mediterranean diet with lots of veggies and sometimes fish. I like fish, don't get me wrong but I need my meat.
The book is a really good read and it does sound like it will work if you stick with it and especially if you have a support system or a partner to do it with and willing to change the way you eat (which IS for the better), you will lose the pounds.
Maybe one day I'll do the lifestyle change or maybe I'll just do the first five days… and I know it's a good plan, the book comes with before and after pictures along with testimonials but just like yoga, it's just not for me.
Check it out anyway if you're looking to lose some poundage! OH! I forgot, she also has instructed you CHOCOLATE EVERY NIGHT! What a great diet!
*I was not paid or compensated for this review. I did receive a copy of the book to read. Any and all opinions here are my own. Mahalo!*