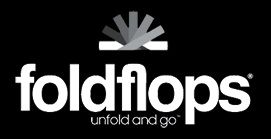 In Hawai'i we wear sandals every day. It's just too hot to wear shoes!  Plus, it's courteous to remove your shoes when you enter a home so unless I want unfasten my shoes every time I go in and out of my home I love a good pair of slip-ons.
FoldFlops are exactly what I was looking for. They're stylish, sporty, lightweight and definitely comfortable.
Unlike disposable or flimsy foldable shoes or flip flops, FoldFlops custom molded, high quality EVA construction makes them perfect for continued wear.  A porous edged topsole to resist dirt and sweat, a ridged outsole to minimize slip, and a cushioned inset to maximize foot and arch support provide high-level comfort. Foldflops are waterproof and UV resistant.
I really do like FoldFlops! I've tried so many cheap excuses for slippers (we call them slippers in Hawai'i). These are thin and lightweight but they have a lot of bounce and support for my arches. Best of all, I can toss them in the washing machine if they start to look a little dirty and they'll clean right up.
BUY: If you're looking for something comfortable to wear this summer, check out foldflops.com
One lucky Moana Saves reader will win a pair of black, red, or champagne FoldFlops. Just enter the Rafflecopter below.
*I was not compensated for this post. Any and all opinions here are mine.