My family and I love a good game. Weekly we're playing all sorts of card games, board games, electronic games, etc. My preference is games that require creative juices like drawing, acting, and building and Morphology is definitely my type of game.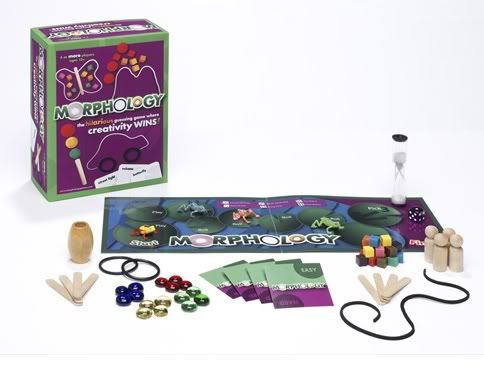 How do you play? Pick a card (hard or easy), build the object listed on the card using your box of tools included in the game (wooden sticks, glass beads, colored cubes, string, etc), and let your friends wildly guess before the time runs out. There's added challenge with the building of the clue when Morphology throws you a curve ball like building blindly or one-handed using your weaker hand.
I took this game to 'Girls' Night Out' with friends and we had a great time. It's more challenging than you think, forming words like tape, toast, watch and more. To be honest I would make two simple improvements to the game. First, the cards need their own storage box. Second, the "string" is a leather-like strip that is hard to work with because it doesn't stay bent the way I would like. My preference would be a shoelace that's durable yet maneuverable.
If you don't want to take my word for it, check out these accolades for Morphology:
Time #2 Game of the Year
Chicago Tribune Top Party of the Year Nominee 2011
About.com Reader's Choice award: Best Party Game of 2010
Dr. Toy Winner: Top Vacation Products 2011
Learning Magazine's 2012 Teachers' Choice Awards for the Family
BUY: Purchase Morphology for approximately $24.99 at www.MorphologyGames.com, Barnes and Noble, Marbles the Brain Store, and hundreds of game retailers nationwide.  (Note: Morphology requires 4 or more players, ages 13 and up.)

I was not compensated for this post. Any and all opinions here are mine.