I'm a "Don't Sweat Mom"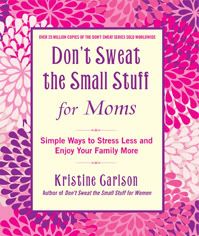 You might be asking what a "Don't Sweat Mom" is. Well, I recently had the opportunity to read Kristine Carlson's latest book Don't Sweat the Small Stuff for Moms and now it really is easier not to sweat the small stuff of parenting. Kristine is the wife of renowned author Richard Carlson, the "Don't Sweat the Small Stuff" King. Have you read a Don't Sweat book? Amazon has these words of praise for Richard Carlson's selection of books:
The words "Don't Sweat the Small Stuff" have become a part of American Culture thanks to Richard Carlson's book that became a runaway best-seller and made publishing history as the #1 best-selling book in the United States for two consecutive years.
Unfortunately Kristine's husband Richard passed away a few years ago but she has continued his legacy of writing books that help us learn 'simple ways to stress less and enjoy (our) families more'.
My mind is still spinning with all the great thoughts I gleaned from this book. The book is broken down into 100 short chapters and is meant to give you new perspectives as well as reminders of things you may already know but have forgotten to put into practice.  Here are a few of my favorites:
take responsibility for your own happiness
life is experienced from the inside out; don't let the little things stress you out so much that it takes away from your big joy which is your life.
an empowered mom has the courage of a warrior and the persistence of a bull
spend some time daily to notice the peaceful place that exists within me, the same place that will sustain me the whole day long
all perfection really means is that you've recognized an opportunity to take steps to do or be better
the love that you have for your partner is the greatest gift you can give your children; making your partner first on your 'to-do' list (and not last) will help you keep your priorities in line and will also be the salvation of your loving relationship
as moms, we need to fill our own well so that everyone else in our family has plenty to drink
if you desire peace and happiness, it's all about keeping the small stuff small.
what's right with your day? (see my comments below)
My list of notes from reading Don't Sweat the Small Stuff for Moms goes on and on. An example of Kristine's strategies rubbing off on me happened yesterday when I had one of those 'successful parenting' moments.  I put into action the "What's right with your day?" strategy mentioned in the list above and the results were worth smiling about. Kristine tells a story about a young boy who comes home from school upset because it's been a 'horrible, terrible, no good, very bad day.'  His mother listens patiently and then asks him to tell her something that's right (not wrong) about his day. This allows him to focus on the positive rather than the negative. My daughter was having a hard time with friends at school and as she began to tell me about her troubles I could see her feeling worse and worse with every word she said. We discussed a few solutions to her friend problems and then I asked her to tell me two happy things about her day. As we talked her countenance began to brighten and after saying not two but four happy things she was simply beaming and she went to bed with a smile on her face.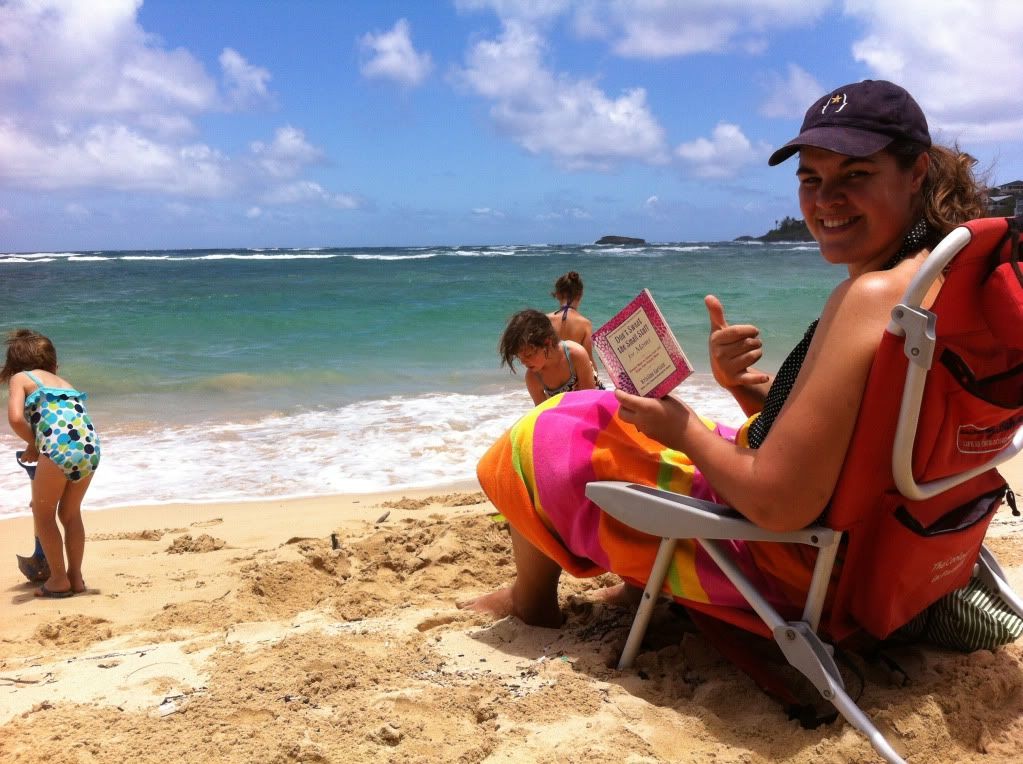 Many moms are commenting: "I wish I had this book the day I stepped out of the hospital with my newborn." It's true! I highly recommend buying or borrowing this book. You'll love it.
Stay up to date on all Don't Sweat the Small Stuff for Moms news on Facebook, Twitter, and Pinterest.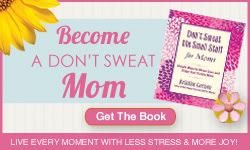 WIN: Enter the Rafflecopter widget below for your chance to win a free copy of this book.

I received this book to better facilitate my review as well as being compensated to participate in the I'm a Don't Sweat Mom social media campaign. All opinions here are mine.