Four Modern Family Classics Debut on Blu-Ray, just in time for Easter!
Need some gift ideas for Easter? How about some classic movies done the Blu-Ray way? These DVD's all came out March 6th, just in time to fill up those Easter baskets! Fern Gully, Thumbelina, Aquamarine, and The Man From Snowy River are all fun family films we can watch together.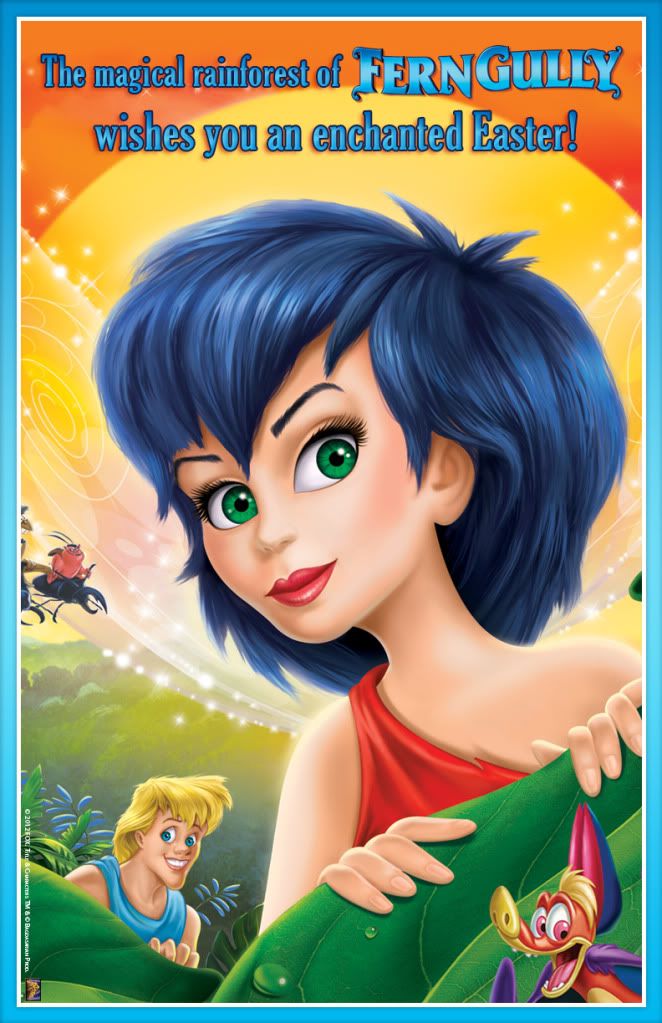 Fern Gully on Blu-Ray is gorgeous! The animation is so rich and crisp! I almost forgot I was watching a movie made in the 90′s until a character said "bodacious"!! It's a movie about saving the rain forests and preserving nature. It was a really big deal when I was a little girl. I remember talking about saving the rain forests since all the animals homes were destroyed. I loved and still love this movie because it shows how one person can help save whay's important to them. There were one or two "intense" moments if young kids are watching but it's really not a big deal. Really enjoyable and you could have a discussion with your kids about the environment and what we could do together to preserve nature. Click on the image to the right, save the file, and print as an Easter card.
Thumbelina was a favorite movie growing up in a home full of us girly girls.  We'd prance around the house after watching this movie.  This come back of Thumbelina came at a perfect time in the perfect form.  It was both my daughter's and my first experience with Blu-Ray and we have really been missing out!  The detailed and bright pictures caught both of our attention.  It brought back a lot of memories, as well as began a few more for my daughter.  She immediately was intrigued with this movie just as much as she is intrigued with the typical princess film.
The Man From Snowy River and Aquamarine are great movies for the "older crowd" in your family. As my husband said, The Man From Snowy River has action for the menfolk and romance for the women. I love that classic movies are being remastered for Blu-ray quality. I especially enjoyed the beautiful quality of the crisp mountain scenes of Australia in Snowy River, especially the horse chase scene with Jim Criag's vertical riding skills.
These four movies encourage adventure and springtime fun. Whether it's exploring your neighborhood, your very own Fern Gully, or water fun like Aquamarine, these movies will have your kids itching for a day in the backyard.  Let the Adventure begin!
BUY: These movies were released March 6th and are available for purchase in stores now.
WIN: One lucky reader will win this 4-pack of movies. Four movies! Enter below in the Rafflecopter widget.
We were not compensated for this review. All opinions are ours and that of our movie-loving children.