My New Year's resolution this year is probably one of the most common among resolutions. I've set the goal of eating healthier and exercising more often, both leading ultimately to my main goal …(queue ominous music)… losing weight.
It's May and that means next month is our resolution half-way mark. Yeah, I bet you didn't want a reminder that the year is half-way over. Are you facing the daunting task of exercising more and losing weight like I am? I've learned a little trick that helps me feel better about sweating like crazy. If you want to feel good then make an effort to look good, meaning if I wear comfortable exercise clothes that fit me well (not too baggy) and wick sweat away then I feel more inclined to want to exercise day after day. Enter the folks at Bondi Band.
Bondi Band makes the BEST wicking head accessories. Yeah, I know that doesn't sound thrilling to you but keeping sweat out of your eyes while you bike, run, hike, etc. is an exercise life-saver in my book. Even better, these headbands are HIGH FASHION. Even Snooki wore a Bondi Band on Wrestlemania.
Bondi Band doesn't just sell headbands but their online store includes:
Armbands
Wristbands
Wicking Hats (Ponytail, Pigtail, regular)
Wicking Neck Gators
Wicking Sweat Towels
'Wild hair day' hadbands for kids ages 1-5 years old
Buddie wraps (dog neck wraps)
Bondi Bands are no slip and no drip. For realz! These headbands are amazing and they fit and feel great. I have a big head in a literal sense and headbands are usually tight and give me headaches but this headband stays put yet doesn't squeeze. Yup, that's me with me sweet Bondi Band after my morning run.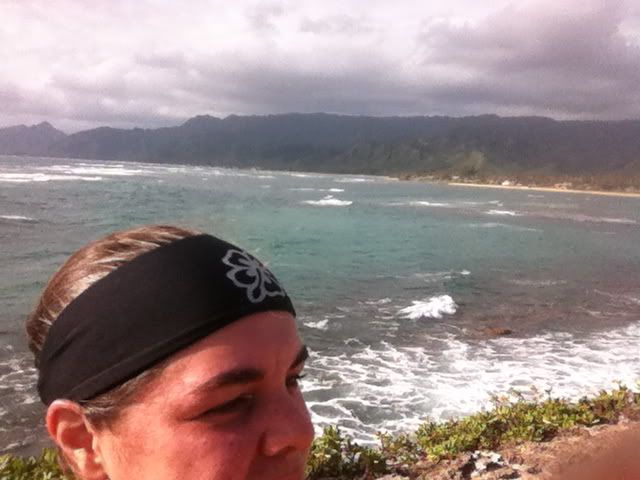 There are so many options for what you want printed on your Bondi Band. These are just a few of my favorites: "Bride" or "Bridesmaid," pink cancer ribbon, "Burn fat not oil" (ha ha!), "Cancer Sucks" (true that!), "Cheaper than therapy" (laughing again), picture of a pig flying (yeah, I used to think I couldn't run until pigs flew), and lastly "One hot mess." There are pages and pages of options so check out their site and see what you like.
BUY: Order your own Bondi Band athletic gear at their site today. I highly recommend it!
WIN: Enter to win your own Bondi Band just like mine! (Black with a Hawaiian Hibiscus in silver ink. Enter the Rafflecopter widget below for your chance to win.



I was not compensated for this post. Any and all opinions here are mine.