Wouldn't it be great to easily choose which $200K salary profession you wanted, whether you'll travel a risky or safe route in life, and if you'll end up in "Millionaire Estates" or "Country-Side Acres?" Unfortunately for all of us real life isn't that easy…but The Game of Life by Hasbro is easy and it's loads of fun.
I was recently sent Hasbro's latest game, The Game of Life zAPPed. This board game is a modern
take on Hasbro's traditional Game of Life with the use of an iPad application, hence the word "zAPPed." What we really like is that Hasbro has improved upon the original game without

changing the basics. You still begin the game with a car and a little pink or blue peg person in the car. You then proceed around the game board choosing college vs. career, getting married, having children, etc. The improvements are made with the inclusion of the iPad during gameplay by downloading the application from the iTunes store for free. My kids loved choosing a personalized animated character and then seeing this character marry in the ceremony of choice (skydive, Vegas, traditional, etc). The peg person dances and moves onto the screen when it's your turn to spin the virtual spinner and changes costumes or receives props for choices they make. Depending on the square you land on you'll often have the opportunity to view a comedic "America's Funniest Video" clip that correlates with the square you landed on.
We really enjoyed playing the new The Game of Life zAPPed. I would highly recommend you adding this game to your game night arsenal. The addition of technology to a traditional game board without compromising the original game makes it so much more enjoyable.
BUY: This game is available for purchase at Amazon.com and ToysRUs.com. Approximate price is $24.99. (Technical details about the game include: for players ages 8 and up with a minimum/maximum player number of 2-4.)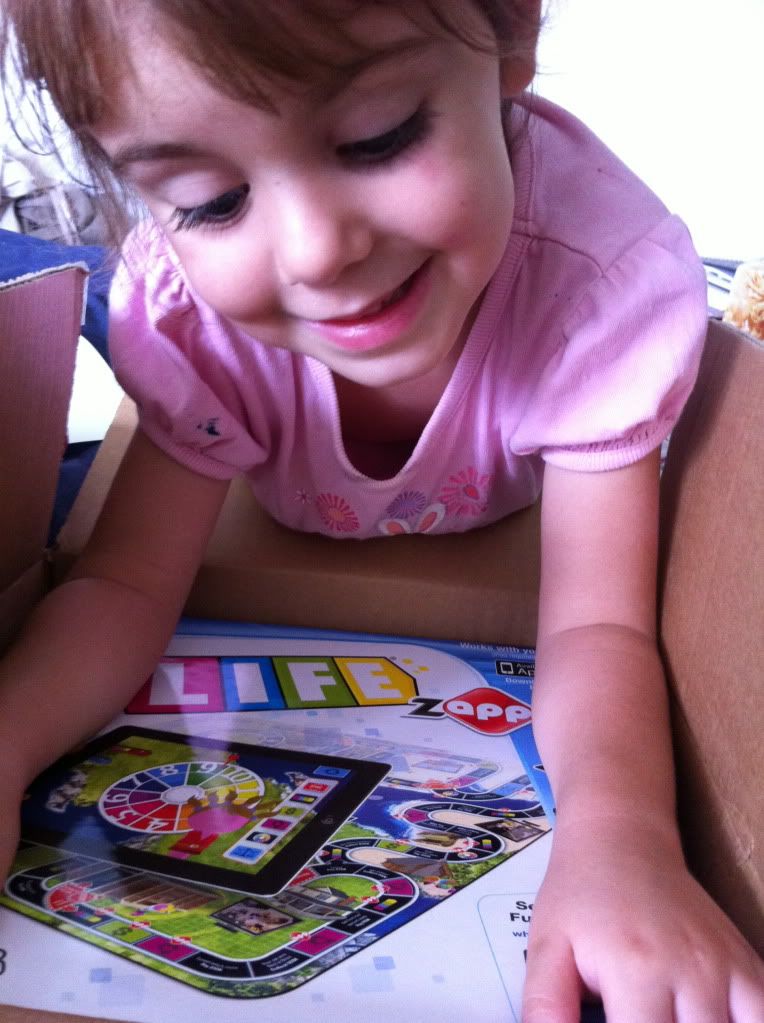 I was not compensated for this post. Any and all opinions here are mine.