Living in this on-line world, our children don't play normal blocks and dolls like we used to.  Although I'm not used to it, I'm trying to embrace the new toys and adventures that come with it. I still try to look for toys that encourage creativity and/or learning games. KIDLANDIA does just that and MORE!
ABOUT KIDLANDIA: It is a California company that gives personalized experiences for kids. Kids and families can imagine, create, and rule wherever they wish to play. Whether it is with one of Kidlandia's Plush toys, its online experience or its mobile apps, hours of fun can be had enjoying this rich and safe connected experience, filled with Kidlandia's whimsical Kreechurs and their environments.
When I heard about Kidlandia I was thrilled! How fun for a child to go online and create their own kingdom; design the look, decide who lives there and play games to earn more characters and cool stuff for their VERY OWN KINGDOM!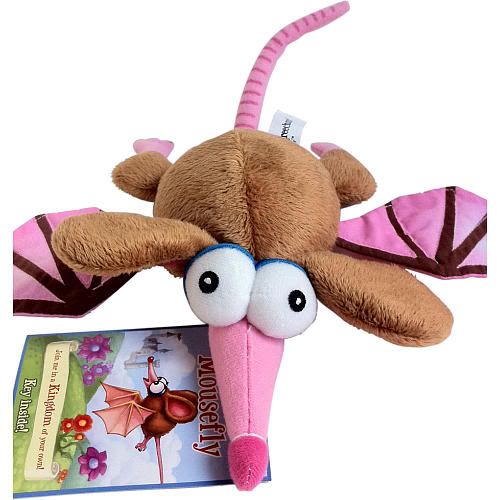 My Daughter received the Mousefly soft toy which came with a code to help unlock games and create her own kingdom. She has such an imagination, this was a birthday wish come true to unleash those creative powers. She has spent hours designing her kingdom, learning & playing games and having fun. One of her favorite games is Kreecher Pirates & Crown Jewels. She talks about her characters and her kingdom all the time.
KIDLANDIA offers more than just an on-line experience.

You can also purchase these items:
*Plush toys that lives in your kingdom
*Personalized maps of your kingdom, blankets, mugs and pillowcases
*Or simply play without any purchase.
WHERE TO BUY:
NEW! Kidlandia Kreechurs Plush Dolls: NOW Sold exclusively in New York City at FAO and Toys R Us Times Square and online at www.FAO.com and www.Kidlandia.com.  Kidlandia Kreechur Plush dolls come to life with a tag that tells their "story" and has a unique, secret code that unlocks fun surprises and rewards in Kidlandia Kingdoms.  The plush toys are available in a variety of characters, including Thumblebottom, Mousefly, Flapper, Whifflepuff, and Caterplump. They come to life in a rich, imaginative online world where kids can rule their own Kingdom of Kreechurs, plants and animals.
**I was not compensated for this post, any and ALL opinions here are my own.*