Yo Ho! Yo Ho! A Pirate's life for me… and the rest of my family!!!  This Halloween, my family (husband and four children included) decided to be pirates.  So, we were more than happy to host a pirate party featuring none other than the Pirates of the Caribbean: On Stranger Tides movie.  The party kit we received included enough loot for up to six kids, but since limiting attendees to that number in my (ginormous) family is impossible, we decided to throw a great big swashbuckling soiree, with parents and children alike.  
Our pirate pennants, treasure chest pinata, and miniature treasure chests definitely set the pirate-y mood…
and the pirate mustaches had everyone growling, "Arrrrr!"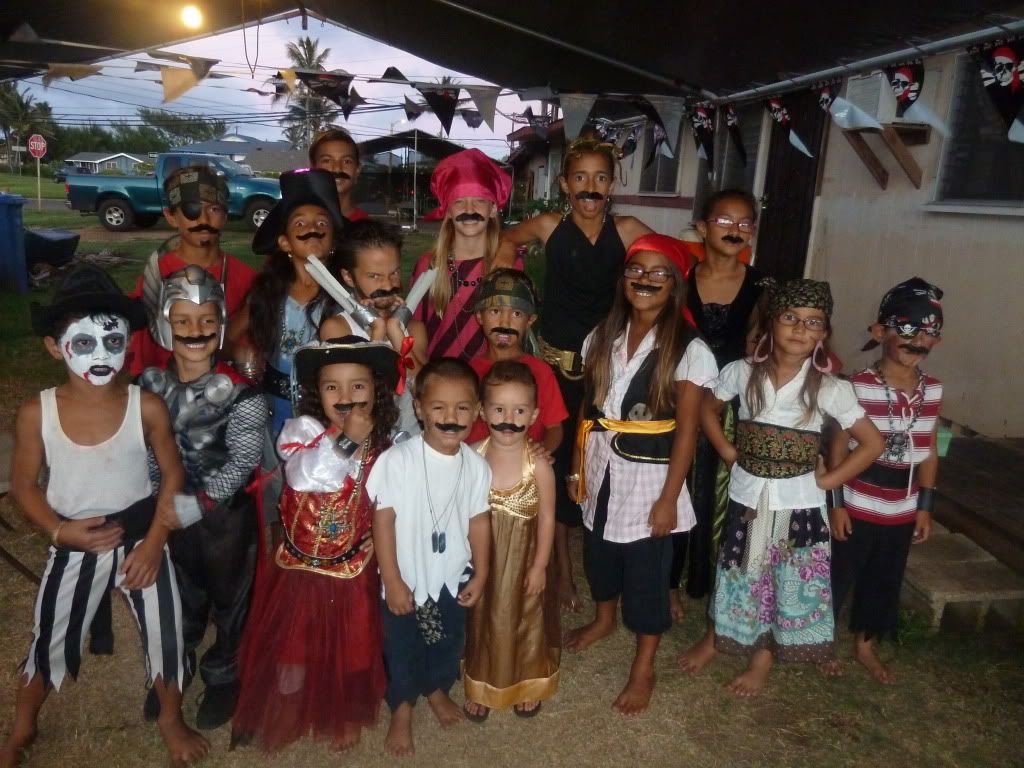 We played a few games before eating, including "Cannonball launch" where teams had to throw their specific colored balls into a container wearing an eye patch, "Musical Pirates," just like musical chairs, but instead of sitting on chairs, they had to stand on a jolly roger cutout, and "Treasure Chest Hunt" much like an Easter egg hunt, but with mini chests filled with gold coins, candy and prizes.  Everyone had so much fun, especially with Musical Pirates — the adults even got into this one and it was a riot watching them battle it out to the very end.  We also had a costume contest for best costume overall and best pirate costume.  Everyone was stoked to find out that some of the prizes were Pirates of the Caribbean: On Stranger Tides 
Blu-ray Hi-Def Combo Packs… especially since the DVD was just released October 18th.  SCORE!
  The treasure chest pinata was such a treat because it lasted through all the kids at the party, which rarely ever happens at our parties!  It was so strong and sturdy, that my brother had to get a bigger stick to whack it open.  
While the kids munched on their pinata loot, I brought out the adult "pinata" – in the form of homemade caramel apples, YUM!  Pirates young and old had a blast at our pirate party… I even got texts late the same night and the following day about how much fun it was and how they absolutely LOVED Pirates of the Caribbean: On Stranger Tides.  To quote my brother, "It was awesome!!!"  Shiver me timbers, it was pretty awesome! 
I was not compensated for this review, although I did receive an awesome Halloween pirate party kit to facilitate the review.