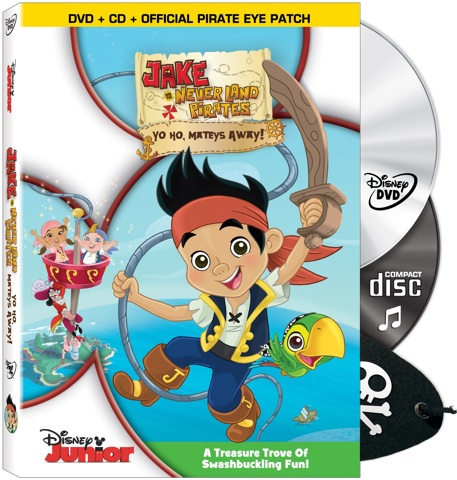 The first DVD of Jake and the Never Land Pirates is now out! My kids love this show, boys ages 2-8.  The DVD is a collection of 7 shows from it's first season (each with 2 mini-episodes) with bonus features like the Pirate Party and even the songs with words- Karaoke style.
It also comes with a CD with the songs to play without the TV on, I have one son that loves to sing, so he presses "play" and just sings and dances around the house.
Last, it has a Pirate eye patch.  We have to let the boys take turns wearing it until I go find more patches, but one episode per kid works just right.
Great set for kids who already like Jake and his crew and want to watch their favorites on demand.  Not a movie, so these episodes are the same ones we've seen in the past.  Every time a new episode starts, my kids claim "I'm Jake, I'm Cubby" etc. and "Mom, you're Izzy".  This is how they get their imaginations going and play the parts later on.  My favorite part is the music, which is at the end of the episodes, on the karaoke feature and also on CD!
Both the DVD and CD can be purchased separately at Amazon.  Keep reading for press release info on both:
About the Album Release:
Written and performed by Loren Hoskins and Kevin Hendrickson, a.k.a. Sharky and Bones of The Never Land Pirate Band, the album features 18 swashbuckling tracks sure to thrill any young pirate.  Also included are downloadable activities and games to plan the perfect pirate party, a Sing-Along version of the show's theme song and a bonus track from a future episode. The deluxe edition includes a pirate bandana.  The album arrives at stores and online retailers September 20.
The album features a variety of songs that kids and parents can enjoy together. Songs include the kooky, comical "Hot Lava," "Aw Coconuts," "Pirate Password," and the arrrghhh-rated "Talk Like a Pirate." Some songs refer to popular characters in the show, such as "What's Cookin' Smee," "Captain Hook (Is A Cranky Crook)," "Tick Tock Croc" and "Bucky's Shanty." Others capture the island spirit of Never Land, such as "Castaway on Pirate Island," "Shipwreck Shuffle" and "Never Sky," as well as the "Jake and the Never Land Pirates" theme song. All songs can be heard in episodes of the show.
Portland, Oregon-based Hoskins and Hendrickson have been creating pirate rock music for kids of all ages for more than a decade. The duo produced four previous children's albums and even led their own pirate band.  The pirate rockers also provide the musical score for "Jake and the Never Land Pirates."
The Jake and the Never Land Pirates soundtrack will be available wherever music is sold on September 20. For more information on Walt Disney Records' releases, please visit www.Disney.com/music <http://www.Disney.com/music> , become a fan at www.Facebook.com/disneymusic<http://www.Facebook.com/disneymusic>  or follow us at www.Twitter.com/disneymusic <http://www.Twitter.com/disneymusic> .
About the DVD Release:
The Walt Disney Studios has released Jake and the Never Land Pirates: Yo Ho, Mateys Away!, a DVD packed full with seven episodes from the series and two incredible bonus features including Yo Ho, You Want To Be A Pirate?, where Jake teaches viewers how to talk like a pirate, and Pirate Party With Pirate-oke, a collection of music videos performed by The Never Land Pirate Band that allow viewers to enjoy with or without the sing-along/karaoke-like feature.
Retailing for the suggested price of $19.99 in the U.S. and $24.99 in Canada, the Jake and the Never Land Pirates: Yo Ho, Mateys Away! DVD also comes packaged with a bonus 7-track CD sampler and a pirate eye patch.
I was not compensated for this blog post although I did receive a product sample to facilitate my review.  Any and all opinions here are mine.