I associate the Eucerin brand with excellent skin care products.  When First Born was an infant, she had eczema and Eucerin was the pediatric recommendation for soothing her sensitive skin without exposing her to potentially harmful substances.  Back then, Eucerin came in those iconic big jars and smaller tubes.  Today's Eucerin is even better and has developed a whole range of skin care solutions!
First, did you know that September is National Skincare Awareness month?  What better time to learn about what dermatologist-recommended Eucerin offers to nourish and moisterize skin?  I got to sample two new-to-me Eucerin products in their Repair line that I now love!  The first, Eucerin Plus Intensive Repair Enriched Lotion is all of the following:
Dermatologist recommended
Replenishes moisture essential to healthy skin
Gently exfoliates to improve the appearance of dry, rough skin
Fragrance-free, won't clog pores
It is a heavier lotion that is keeps my skin moisturized all day and is great to apply at night before bed for extra conditioning and repair. This formula also contains AHA which means that it sloughs away dead skin as is conditions.  I love a product that multi-tasks!
The other Repair product I tried was Eucerin Plus Intensive Repair Hand Creme which is:
Dermatologist recommended
Can repair and gently exfoliate dry, cracked skin, hands and fingers
Can provide noticeably smoother hands after just one use
Non-greasy, fast-absorbing
Uniquely formulated for hands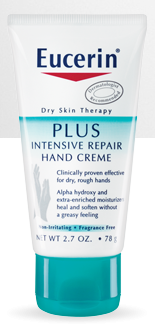 This hand formula really smooths out my hands!  Like most moms, I wash my hands a lot and this creme is a treat for dry, chapped hands!  When I go to the Mainland, my hands really suffer from the drier weather and the usual hand-washing.  I can tell that Eucerin Plus Intensive Repair Hand Creme will be my go-to treatment when traveling.