Reusable sandwich wraps, snack bags and more green products
I usually take a home lunch every day to work at the local high school. My husband and son also take lunch. It is too expensive to buy a lunch everyday.  I usually take leftovers but on days when there aren't enough to go around for everyone, we eat sandwiches.
When I first saw the lunch containers from eco lunch gear , I thought they looked pretty cool. Plus the sandwich one was in my favorite color! Orange! Well, it had orange in it.
It has pretty yellow and orange fabric on the outside and velcro strip on one end with their tag on the other end. The smaller bag is green with a pretty little design. It's got a velcro strip on the outside right in the middle and the two "arms" also have velcro strips.
There it is on my desk. It was the beginning of the school year so my desk still had space for my lunch
My chips were in the little green snack bag.
Here's some info about the material and product – (explained much better than I could do it!)
Every wrap and bag is made from 100% certified organic cotton: yes, it does cost more per yard but the fact that it is grown without pesticides is worth every penny.
The sandwich wraps and snack bags are lined with polyurethane coated nylon (the pu coating is on the inside way from food) – this is to help keep food fresh and is resistant to water, stains, mildew and rot. The nylon has been tested and is free of heavy metals, phalthates and is lead free.
The Sandwich Wrap folds around a sandwich, bagel or even a sliced orange – anything you can think of. It also lays flat to be used as  a placemat.
Both wraps and bags have double velcro on the inside, this is for the cleaning process. Just fold the velcro tab down before throwing in the wash so it doesn't stick to everything else. They can be machine washed/dried or hand wished and line dried.
I like how the bags are flexible and are able to fit different sized breads without compromising the quality of the sandwich. I love eating the white bread from Love's Bakery that we buy from Sam's Club. It is huge and fills me up.  My huge sandwich fit in it without a problem since I could fold it and shape it to my lunch.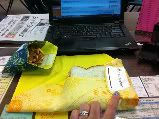 The little snack bag is also quite flexible. I had chips in there and by lunch they were good to go. Although the one time I put Famous Amos cookies in there, the cookies had gone a little stale. But that also might have been me eating a cookie or two at recess and saving the rest for later.
I was worried at first about how I would clean it. At first I thought I'd have to wash it with my laundry but then I realized I could wash it with my dishes. I hand washed them both, wrung them and laid them out to dry on the dish rack on top of my regular dishes and in the morning, they were dry and ready to be used again!
Overall, I'd recommend eco lunch gear wraps and bags to anyone who takes home made sandwiches, loves to eat a bagel or fruit for lunch and just wants to be eco-friendly!  Plus they have really cute designs on their wraps and bags!  You can buy them online HERE.
I was not compensated for this blog post although I did receive free products to facilitate this review.  Any and all opinions here are my own.