I have a crush on cookbooks.
For me a good cookbook has eye-catching food photos, clear and precise recipe instructions, and most important the recipes are useful in my family-oriented kitchen. Real Mom Kitchen has all three of these characteristics with an emphasis on the useful aspect. The author, Laura Powell, is a stay-at-home mom who loves to cook for her family but she's also aware of the time constraints of busy moms. After the success of Laura's cooking blog, Real Mom Kitchen, she compiled this cookbook of family favorite recipes that are easy to prepare and taste great.
Recently I reviewed Laura's cookbook and immediately made a list of recipes I wanted to make. Included on my list is parmesan crusted breads, cucumber salads, chicken salads, and Husband's Favorite Casserole. Mmmm. Doesn't that last one sound intriguing?  The book is full of easy to prepare appetizers, breads, soups and salads, main dishes and desserts. From what I've seen most of the recipes can be prepared with a simple number of ingredients and steps (my kind of cooking!).
The recipe I'm going to share with you today is Laura's Mom's Orange Rolls. Orange rolls are similar to cinnamon rolls but exchange the cinnamon for orange zest and include a delicious orange-flavored frosting. So delicious!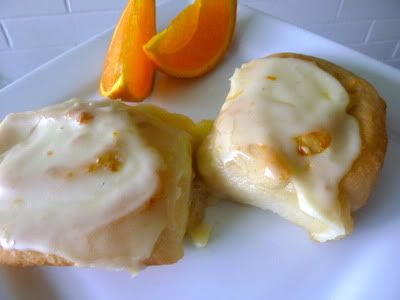 Mom's Orange Rolls
1/2 cup warm water
2 pkgs yeast
1/2 cup margarine or butter
1/2 cup sugar
1 cup hot water
2 tsp. salt
3 eggs, well beaten
4-4 1/2 cups flour
Filling:
1/2 cup butter, melted
1/2 cup sugar
zest of 1 orange
Frosting:
2 cups powdered sugar
4-6 Tbsp. fresh orange juice
In a large bowl, combine water and yeast and let sit.
Melt butter in a saucepan an mix in sugar and hot water.
Combine butter mixture with yeast mixture. Then add in eggs and flour until well combined.
Cover bowl and let dough sit in the refrigerator overnight.
Divide dough into two balls. Roll each ball out into a 9×13-inch rectangle on a lightly floured surface.
Mix together filling ingredients and spread mixture over both rectangles.
Roll up dough from one long side to the other long side.
Cut each roll into 12 pieces and place in greased muffin tins.
Let rise 3-4 hours.
Bake in preheated oven at 375 degrees for 10-12 minutes until golden brown. Allow to cool slightly.
In a small bowl, mix together frosting ingredients and spread on top of warm rolls.
Makes 24 rolls.
What I liked best about this recipe was the fact that I can begin the dough preparation the night before, giving me a heads-up on my morning breakfast. I've never made orange rolls from scratch but they are one of my favorite breakfast treats. This recipe is definitely comparable to the rolls I've eaten which were store-bought from the frozen foods section.
BUY: You can purchase this cookbook on Amazon or Cedar Fort's website.
WIN: Enter our giveaway below to win your own copy of the cookbook, Real Mom Kitchen.