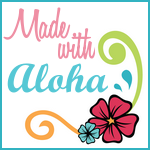 NOTE: As the first feature in a new series on the blog featuring Hawaii-based small businesses, we want to introduce to you a company that reminds us how to be a kid again with li hing mui lollipops!  You find these made-to-order treats at the Hawaiian Kine Candy website or purchase a 52% off voucher for Hawaiian Kine Candy at Oahu Saves, the newest daily deals site in the islands.  In the meantime, read on to learn more about Hawaiian Kine Candy and their delicious treats!
If you like li hing mui (uh, who doesn't?) and you like candy, too, then you will LOVE Hawaiian Kine Candy.  Our li hing mui lollipops are second to none and made fresh to order on the North Shore of Oahu.
Our business grew out of a family reunion fundraiser: Our kids would sit in front of our houses and sell li hing mui lollipops to any and everyone that passed by. We had such a positive response and, yes, we all made it to our family reunion!! After we stopped making lollipops, we kept getting requests and orders and found out that so many people (both here in Hawaii and in the mainland crave the mouth-watering flavors our li hing mui lollipops provide! And so, "Hawaiian Kine Candy" was born to allow everyone near and far a chance to enjoy our delicious li hing mui lollipops.
Hawaiian Kine Candy has an assortment of shapes/molds and offers the following flavors:
There are lots of colors to choose from, so if you want purple Pina Colada or pink Pineapple-flavored lollipops, it's totally up to you! For special requests (including opaque colors), please email Hawaiian Kine Candy at customersvc@HawaiianKineCandy.com.
You can also specify what type of li hing mui you would like: seed, seedless or powder.  And, for those who prefer no li hing mui at all, you can order just the yummy candy lollipops, too!
These li hing mui lollipops are great for special occasions such as: luaus, weddings, birthdays, graduation parties, bridal/baby showers, holidays, etc… and of course, personal consumption!
Hawaiian Kine Candy li hing mui lollipops are Made in Hawaii and always Made with Aloha!
Disclosure: I did not receive compensation for this post besides the satisfaction that comes with promoting a Local small business.