Carmex and I go back a long ways.  That iconic yellow-lidded lip balm jar accompanied me everywhere in my bag or pocket during high school and college.  I loved the tingly goodness of Carmex back then and I still do today.  What's even better about Carmex these days?  Their improved line of lip moisturizers, especially two of Carmex's newest flavors: Carmex Lime Twist and Carmex Vanilla click sticks.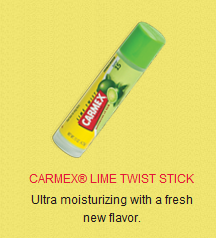 Available at Walgreens, Walmart and CVS, these premium lip balms contain the same ingredients in the original line plus three additional moisturizers.  I'm a fan of the click sticks that let me know when I've advanced the stick or reached the end of it.  And my favorite flavor out of the two?  Lime Twist (but I love lime anything).  The Vanilla is good, too–the only problem is that it isn't Lime.  Both feel great when I put them on and are long-lasting.

Carmex also sent me a tube of their tinted lip gloss, Lip Moisture Plus.  Out of the three, Lip Moisture Plus is the richest.  This is one you can put on over or under your lipstick to keep your lips soft all day.  Lip Moisture Plus also comes in four sheer tint colors so you don't have to pair it with your favorite lip color.
Overall, I'm impressed with these three new products in Carmex's lip care line.  I think you will be as well!
Carmex is offering one of our readers a Carmex prize pack which features the three lip products above: Lime Twist click stick, Carmex Vanilla click stick and a tube of Lip Moisture Plus.  They are also including a picnic/stadium blanket which would be great to use on summer picnics and for fall tailgating parties (my nine year old has already used it twice for backyard picnics).  To win, complete the mandatory entry in the Rafflecopter widget below and any of the optional entries you'd like as well.  Good luck!