There is always one background exerciser modifying moves for beginners like me.

My kids (who have fitness short attention spans like me) do it with me, helping me to be accountable

My kids (whose fitness attention spans outlast 20 Second Fitness) take turns doing sit-ups and crunches with me after we finish our 20 Second Fitness workout.

Gradually adding more moves and rounds into the warm up workouts have me doing much more (and enjoying it!) than the first few workouts.

Spencer's motivational commentary is never irritating.

You can do anything for 20 seconds.  Including planks and cross country skiers.

20 Second Fitness means pushing myself to the max for 20 seconds and then taking a blessed 10 second break so I can do it all over again.  Several times.

The fitness bands included with the kit are of high quality with removable handles.

Who doesn't have four to twelve minutes to work out?  Even I can't excuse myself because I'm too busy to exercise.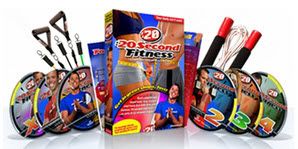 Check out the comprehensive work out kit available from 20 Second Fitness, now offering our readers free shipping when they use the code "moana saves" to order the program.
I was not compensated for this blog post although I did receive a free kit to facilitate my review.  Any and all opinions here are mine.