When in doubt, accessorize!!!  Right?  But what about when you're in doubt about your accessories?  In that case, check out
Jewelry Bar
to discover the latest trends in fashion jewelry.  Founders Mariya and Anna hail from St. Petersburg, Russia and have moved to New York to introduce a European view of fashion to America.  After working in the fashion industry for some of the world's leading companies, Mariya and Anna started Jewelry Bar to share their love of fashion, including costume jewelry, fine jewelry and even handmade leather sandals that complement your pieces of jewelry perfectly!
Jewelry Bar offers a variety of fashion jewelry from simple to chunky, to a combination of both – they have "stackable" rings and bracelets that you can wear individually for a simple yet sophisticated look or stack them all together for some serious glam!  Their fine jewelry – Silver 925 with Precious Stones – offers unique pieces of elegance, as well.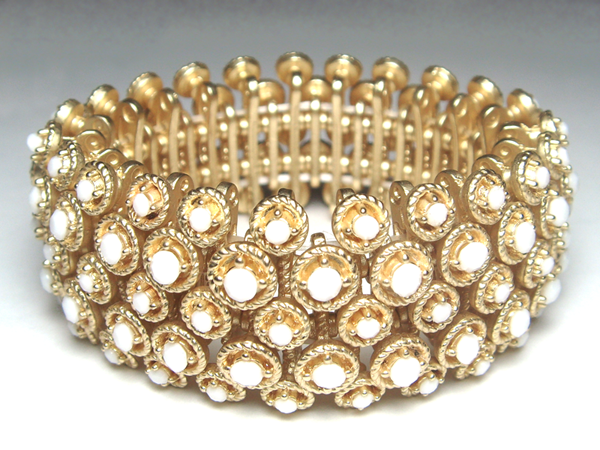 I received this gold finished elastic bracelet studded with genuine Austrian white crystals and I love it!  Not only is it beautiful, but it really fit me well, too.  I have small wrists, so a lot of times the elastic one-size pieces of jewelry don't fit very well, but this bracelet sure did and it looked fabulous!  I wore it to work paired with my pearl earrings, but I can definitely glam it up with a pair of dangly gold earrings and a chunky ring for a night on the town.
I can honestly say that I like every piece of jewelry they have to offer, although there are a few that I love!!  Like this medallion ring… LOVE!
One lucky MoanaSaves reader will win a bracelet from Jewelry Bar, but even if you don't win, you can still receive 15% off your next online order… all you have to do is "Like" 
Jewelry Bar on facebook
, then email 
info@jewelrybarny.com
 to let them know.  You'll receive a personalized discount code that can be redeemed upon checkout.
WIN: Enter to win a bracelet from Jewelry Bar just like the one I received using the Rafflecopter giveaway below.