I like things with a little sass.
Except my kids. When they give me sass….it's trouble.
(I will admit though, sometimes it's funny. They come up with some pretty random stuff. We'll just call it entertaining.)
My hubby with a little sass is cute.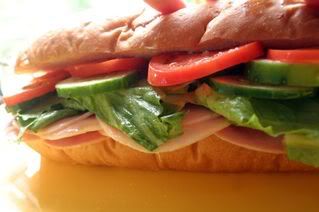 Clothes with some sass make me feel younger and more energized.
FOOD with some sass?
That gets me excited!
And it's the perfect way to describe Beano's Brand condiments and sauces.
Sauce with some sass! Yes.
Jayne (who also enjoys some culinary attitude) and I were sent some Beano's Brand deli sauces to try.
I'll go first.
I was sent Roasted Chipotle Deli Bistro Sauce, Cilantro Lime Deli Bistro Sauce, and (my favorite) Buffalo Sandwich Sauce.
The Chipotle Deli Sauce is like fresh homemade mayo with a kick of cayenne! It was awesome on my homemade club sandwich with turkey, ham, bacon, and veggies on a roasted garlic roll.
(You hungry yet?)
The Cilantro Lime Deli Bistro Sauce is also like fresh homemade mayo with the full flavor of cilantro and a hint of lime. It's SO good! It went perfectly with the sammies we made.
My official taste tester (my hubby) really loved the Cilantro Lime Deli Bistro Sauce.
Though we don't always agree on food (I'm used to Mediterranean food and he's from the islands) we always agree on buffalo sauce. When we go out to eat together, anything buffalo sauce-ified is the food we can get and share without hesitation.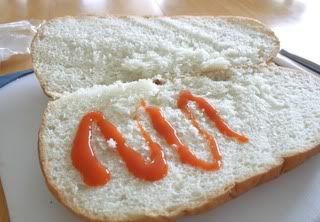 William and I did agree that Beano's Buffalo Sandwich Sauce was our favorite. Aw. It must be love. The Buffalo Sandwich Sauce is spicy and THICK. Which is awesome for anything you want to dip into it! (You don't waste it either, because it's not dripping everywhere.) It goes right where you want it!
I used the buffalo sauce on our sammies, and also to kick up some plain chicken breast that I put on everything, even salad! You have to try it!
Beano's brand sauces would make fabulous Father's Day gifts. The way to his heart really is through his stomach!
Take it away Jayne!
I have to admit when I was approached to review Beano's sauces I was at a loss to select only 3. Their selection is large and I just couldn't narrow my options down to a couple favorites. They sell deli condiments and deli bistro sauces, as well as seafood and white pizza sauces.

That's when I turned to Beano's  recipe site to see which sandwich recipe made my stomach grumble with hunger. What caught my eye? This tasty Summertime Pita using the All-American Sandwich Spread. The sauce gives a great kick with an ingredient list of pickles, pimentos, garlic, paprika and turmeric. My kids aren't the type to eat a pita sandwich with diced tomatoes and cucumbers but this sauce made all the difference.
Beano's Summertime Pita

1-1/2 cups chopped cucumbers
1-1/2 cups chopped tomatoes (about 3 medium tomatoes)
1/2 cup Beano's All-American Sandwich Spread
6 pita breads, cut in half
6 slices American cheese, halved.
1/2 lb. oven roasted turkey, shaved
1/2 lb. Virginia Ham, shaved
Mix cucumbers, tomatoes, and Beano's All-American Sandwich Spread. Spoon 2 Tbsp. of the cucumber mixture into each pita half. Fill evenly with remaining ingredients. Serve immediately.
Enjoy! Makes: 6 servings, 2 filled pita halves each. (If you're adventurous you can even make your own pita bread like I did.)

I also received the Buffalo sauce (same as Kristen mentioned above…mmm good!) and by mistake I ordered a pizza sauce instead of a third sandwich sauce. I just have to give a shout-out to Beano's Classical White Pizza Sauce with Sundried Tomato. I served this sauce on a grilled pizza with mushrooms, fresh basil and mozzarella. I am so hooked!
Now that I'm familiar with Beano's sauces I wish I had tried the sauce they're most famous for, their sub sandwich sauce. At least I can purchase it at a local store! My family and I are planning many beach trips this summer and I have big plans for using these Beano's sauces to sass up our many picnic sandwich lunches.
BUY: You can order Beano's sauces directly from their website or click on their "Find Beano's" link to find a local grocer that sells their product. (They're everywhere, even in Canada!)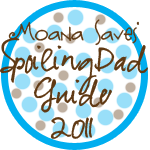 We were not compensated for this post although we did receive free product to facilitate our review.  Any and all opinions here are our own.