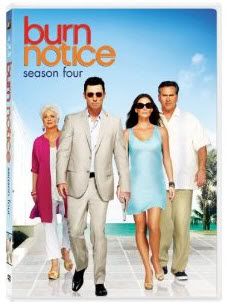 That's right! The fabulous folks at Twentieth Century Fox sent me a new-in-package, shrink-wrapped Burn Notice Season Four DVD collection to give away to one of our readers!  Hopefully, you didn't miss my Father's Day review (and endorsement) of Burn Notice Season Four HERE.  The hub loves this show on the USA Network and the fifth season has just started (on June 23rd).  With this DVD set, you can catch up on what you've missed of Season Four or just watch some awesome episodes over again at your own convenience.
BUY: We've posted here about all of the other DVD collections and movies Twentieth Century Fox offers that will make fabulous Father's Day or birthday gifts.  You only have to look as far as your local DVD retailer or Fox Connect to purchase great DVDs for Dads or Burn Notice Season Four for yourself (or your Dad).
WIN: One Moana Saves reader will win a copy of Burn Notice Season Four.  See the Rafflecopter widget below for your mandatory entry as well as a variety of optional entries and good luck!