I love movies with a lovable talking snowman! Isn't he just the cutest snowman you've ever seen? You're going to love him!
Frozen isn't just about a snowman but he is one of the show-stealers in a story about two sisters and their journey in this adventure.
ABOUT THE MOVIE: Opens Nov. 27th

Walt Disney Animation Studios, the studio behind "Tangled" and "Wreck-It Ralph," presents "Frozen," a stunning big-screen comedy adventure. Fearless optimist Anna (voice of Kristen Bell) sets off on an epic journey—teaming up with rugged mountain man Kristoff (voice of Jonathan Groff) and his loyal reindeer Sven—to find her sister Elsa (voice of Idina Menzel), whose icy powers have trapped the kingdom of Arendelle in eternal winter. Encountering Everest-like conditions, mystical trolls and a hilarious snowman named Olaf (voice of Josh Gad), Anna and Kristoff battle the elements in a race to save the kingdom.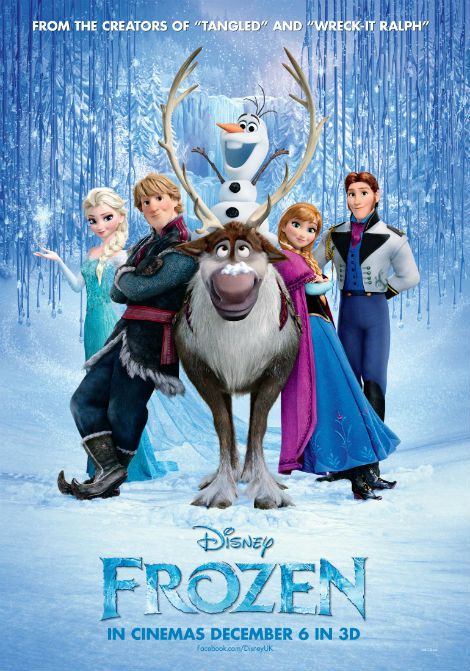 Going in, I had very little knowledge about the movie. Sometimes it's nice not knowing what's going on. But since you're here, I'm assuming you would like to know a little about it before you spend money for a movie.
I say spend it. It will be money well spent.
Frozen had me laughing quite a bit. Ok, fine, a lot.
I didn't realize it was a musical but I probably should have figured that out since Idina Menzel voices one of the characters, Elsa, to be exact. I loved the music in the movie and it added to the story as it played out. The songs are fun to listen to and I can't help it, I love musicals and Disney musicals are so fun!
Frozen is also being shown in 3D!
I am skeptical of 3D because sometimes I feel like it's a waste of money because the 3D effects are far and in between and the glasses can be irritating to wear but BUT this movie was done well in 3D. It wasn't too much or too little.
I think the 3D effects were just right. It made it a little more magical.
However, if your kids are like my daughter who takes off the glasses and keeps it off, 3D might not be the most practical way to go to watch this movie.
Like I said before, Olaf the Snowman was one of my favorite characters. He isn't one of those characters that were put in the movie for comedy relief, he is important to the storyline and you'll see why.
The scenery and graphics were amazing! It's so beautiful!
My 6 year old son's favorite part was when Olaf sneezed and reminder swallowed the carrot…and gave back the carrot instead of eating it. (I agree, it was pretty funny.)
My 4 year old daughter liked the sisters, Elsa and Anna. (princesses, she's all about the princesses but she's right, I really liked them too!)
I know my husband and I enjoyed it just as much as the kids. I know I did! I just hope everyone was laughing just as loud as I was during the movie! There were a lot of great parts in the movie that will be enjoyed by young and old. So basically, the kids will enjoy it as well as the adults.
It's definitely a movie everyone in the family will enjoy!
It is rated PG but I think mostly because at one point there's snow monster and some shooting scenes but nothing to deter one from going to see the film.
I suggest you go see it…after a nice Thanksgiving meal with the family of course! Enjoy your Thanksgiving holiday!!
After the movie, there was a HUGE Olaf in the movie theater lobby and I couldn't resist taking pictures with him and my kids!

*Any and all opinions are my own. I was not compensated for this post but I was able to view an advanced screening with my family. Aloha!*
Official Website: http://movies.disney.com/frozen.
The film is rated PG.